SEO is Challenging.
Let us help you work smarter!
SEO is an exciting, high-stakes game. Millions of dollars of targeted traffic is up for grabs by those with the skills to capture it. Succeed at SEO and you'll be rewarded with endless streams of interested visitors. Fail and your website languishes in obscurity. The bad news is that in this game the rules change weekly, and one of the world's most powerful corporations tries their darndest to keep everyone in the dark.
Fortunately, search engines aren't the only ones who can leverage the power of machine learning to rank websites. Anyone can do it, as long as they're willing to assemble a 100 billion+ node linkgraph, analyze over 300,000 websites, and tap some of the world's smartest minds to make sense of all the data. This is the story of the team crazy enough to tackle that challenge and in the process invent a totally new kind of SEO software.
CanIRank's team has been featured in these fine publications:
The Story of CanIRank
The idea for CanIRank was born from 50,000 rows of SEO data and the question:
"I wonder what kinds of patterns we can find in this?"
Answering that question (and others that followed) ended up requiring a multi-year journey through the amazing world of data mining, under an apprenticeship of sorts with one of the country's leading data miners. After 2 years developing and refining the data models that would become CanIRank, we eventually realized that we knew more about what drives search engine rankings than practically anyone outside of Mountain View.
Rather than keep it to ourselves, we decided to launch a new kind of SEO software: where other tools simply provide data, we could use our ranking models to draw useful and actionable conclusions. Thus was born the world's first SEO Intelligence software, helping to give startups, ecommerce stores, bloggers, and SMEs a chance to compete against the mega-corporations who rank due to the size of their SEO budget rather than the quality of their content.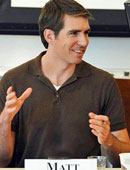 A serial entrepreneur for nearly 15 years, Matt combines deep expertise in online marketing with the experience of having built businesses from startup to 8-figure revenues within 5 years. Matt is captivated by the ever-changing strategic puzzles characterizing modern SEO, which he's unlocked to garner top rankings in competitive niches ranging from finance and law to online dating and internet marketing.


Read more...
Besides developing CanIRank's data models and machine learning, Matt's primary role in CanIRank was to bring together the great minds on this page under a common vision for a new kind of SEO Intelligence software, and keep everyone's spirits up by feeding them delicious tacos and guacamole while they worked to realize that dream. Formerly CEO of domain marketplace Sedo.com, Matt studied engineering at Stanford before hopping the pond to spend 7 years living in France and Germany. He now resides in San Francisco where he can often be found eating delicious tacos, sailing on the Bay, or climbing walls in Yosemite.
Matt has spoken at leading industry conferences including:
President of Abbott Analytics, Chief Scientist at SmarterRemarketer, a frequent speaker, author, and trainer, Dean is an internationally recognized data mining and predictive analytics expert. To be honest, I think Dean agreed to help us out mainly because he thought CanIRank would be an intriguing challenge —

Read more
though I'm not sure if he realized just how challenging it would turn out to be. Like a modern-day Socrates, Dean doesn't just provide "the answer": through coaching, patient explanations, and guidance through the many intricacies of data mining and predictive analytics, he somehow managed to not only lead me to solid results in the short-term, but more importantly leave me passionate about the potential of data mining and eager to learn more. A dozen books and many hours of practice later, CanIRank is a much better product than it would have been had we stopped at "the answer".
A true wizard of front-end code, Marcin can somehow coax Javascript, CSS, and HTML into doing things you never even imagined were possible. For example, have you ever seen a Mega Man-like video game rendered entirely with CSS? (Those of us who have lost entire days trying to get a few boxes to line up properly...

Read more
with CSS can appreciate what a remarkable feat this is.) Now imagine what that kind of talent can do with a web app interface! Marcin was previously a Front-End Engineer at ELPassion and Thomson Reuters, and is Cofounder of PrimeModule.

Contributing Engineer
For many, graduating with honors from Stanford, writing and producing your own TV show, and working as an expat computer scientist in Moscow would make for a pretty proud career history. For Holland, that was just the beginning. We all watched in amazement as he transformed himself from a comedy-writing...

Read more
world-traveling, Tolstoy-in-the-original-reading man of letters into a hard-core engineer, breezing through Berkeley in just 2 years for an Engineering Physics B.S. (with Honors of course), and an incredibly fast 3 years to complete his M.S. and PhD. Whether the task is running an ultramarathon, teaching himself Ruby on Rails, or playing classical Piano, Holland has the amazing combination of brilliance and determination that can lead to only one conclusion: we want him on our team. Holland is currently an Engineer at a little startup outside Portland called Intel. Also, described as "the funniest person I've ever met" by pretty much everybody who's ever met him.

Lead Engineer
Who is Ankur? A farmer, chef, published author, philosopher, licensed reverend, Stanford-trained computer scientist, and "revolutionary of love", it's safe to say that Ankur's unique identity is not easily encapsulated in a 100-word bio. For our purposes here perhaps it suffices to say that Ankur is both a creative problem solver...

Read more
and a uniquely gifted programmer. He "sees" and understands software architecture in the way we imagine Mozart must have envisioned symphonies. Perhaps you won't believe me then when I say that most of us appreciate his warm personality and empathy even more than his coding talent: dude is just that likable.
Natalia has been creating beautiful and usable interfaces for 7 years as a designer with Active Design, Ravelia, and ELPassion. As keeper of the sacred CanIRank "look and feel", she is responsible for making sure all the pixels line up in a suitably pleasing fashion. Anyone who has struggled to work with designers who consider...

Read more
themselves "artistes" far above such middling concerns as deadlines, usability, and teamwork would welcome the opportunity to work with Natalia. She listens to others' ideas, comes up with practical solutions that effectively balance ease-of-use with ease-of-implementation, and completes tasks on time. Don't worry, we still give her credit for being an artiste though, because she does have an exotic accent and look like a fashion model.

Incubator
Once upon a time, in the hallowed halls of Stanford University's Toyon residence, time, place, and circumstance came together to create a unique home for 4 fortunate students: Matt, Ankur, Holland, and Ajay, known by most simply as "The Quad". So exceptionally did the fortuitous roommate matching accomplish the goals of Stanford...

Read more
University Residential Education that they decided to demolish the room following The Quad's occupancy, in an act many described as akin to the Chicago Bulls' retiring jersey #23. Much learning and formative growth happened in the name and guise of "having a damn good time". In between epic late-night foosball matches and nacho-powered philosophical explorations, The Quad would sometimes note the trajectory of Stanford engineering comrades, older and usually better trained (certainly better disciplined), but otherwise not so different, launching themselves into what seemed a hell of a good adventure in Internet StartupLand. Watching a couple of nerdy grad students present their idea for ranking web pages in a similar fashion to scholarly papers and playing with the demo at google.stanford.edu, it was hard not to think: shoot, we could build something like this in a few weekends... maybe we should? So perhaps The Quad should be credited as the true genesis of CanIRank. Though bursting Bubbles ensured that all 4 members went on to pursue their own unconventional paths to paying off their crippling student loan debt, none ever forgot the lesson that bringing together a disparate group of variously talented but equally passionate individuals could give rise to amazing accomplishments: emergence in spite of ourselves. So I'm particularly happy to recount that 3 of 4 Quad residents have contributed to the development of CanIRank, while the 4th, the esteemed Ajay Kundaria, Esq., toils to improve the system in which we and all tech companies operate, as Senior Advisor to the Under Secretary of Commerce for Intellectual Property & Director of the USPTO (which, believe me, is more badass than it sounds).
If you don't want to spend thousands of dollars a month hiring an SEO "expert" who may or may not deliver results, CanIRank is an incredible DIY option that actually works. The system gives you the exact steps to follow, in very clear instructions, to improve your keyword rankings over time. Highly recommended!

I have not only gained a much greater understanding of how SEO works, but I have seen the success of my website grow far faster than ever imagined thanks to CanIRank.

By using more ranking factors (200+) than the usual manual or automated methods, CanIRank gives you the most accurate readout I've seen regarding your chances of ranking new and proposed pages. Plus, it's fun!"

SEO can be boring, but CanIRank's system shows me enough different methods that I can jump from successful strategy to successful strategy, making SEO fun again!
CanIRank Offices in San Francisco, California