Data, Not Opinions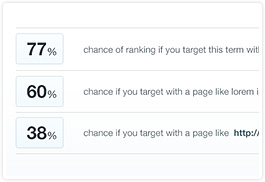 CanIRank's recommendations are based upon analysis of over 200,000 websites to determine what's really most important to high rankings — not "expert" opinions.
Customized to your website

One-size fits all checklists are not enough for competitive SEO. All of CanIRank's recommendations — from keyword suggestions to on-page guidelines to link building ideas — are based upon a thorough analysis of the unique needs, opportunities, and competitive landscape of your particular website.

Adapt to changes

Yesterday's best practices are today's penalty triggers. We regularly update our data models to stay on top of search engine algorithm changes like Google's Panda and Penguin updates.

Optimum workflow for faster results

What's the one thing I can do right now to make the greatest impact on my ranking? To answer that question, CanIRank calculates how your website compares to existing rankers in every major ranking factor, as well as the influence of each of those ranking factors for that particular result page, and gives you the answer in under a minute.
Targeted SEO = Less Risk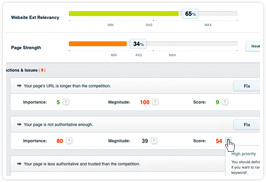 Thorough competitive research enables accurate diagnosis of your website's needs, so you can fix what's broken and avoid the risk of overly aggressive SEO.
Avoid penalties

"The nail that sticks out gets hammered down." Avoid attracting penalties by making sure your keyword usage (both on-page and anchor text) is consistent with other high ranking sites.

Targeted solutions for every problem

Some SEO practitioners always sell the same solution: more links! Would you trust your doctor if he always prescribed the same treatment? Using a variety of targeted SEO techniques protects you from algorithm changes and creates a more natural profile.

Grow organically

Sites often get into trouble when they try to bite off more than they can chew, using aggressive (spammy) SEO tactics to go after keywords that are simply too difficult. Smart SEOs use CanIRank to find low-hanging fruit, building on each success to steadily work their way up the keyword value pyramid.
Always the Right Tool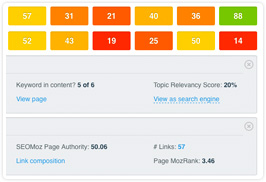 No tool can do everything, so CanIRank connects you to data and features from other SEO tools when they would be helpful for your situation.
All in one place

Whenever possible, we try to save you time and money by using the API from companies like Moz, SEMRush, and SharedCounts to pull the relevant data right into your CanIRank account. (And we help you make sense of it.)

Plays nicely with others

No one tool can do everything, so CanIRank recommends other tools and resources on an as-needed basis whenever one would be helpful for your particular situation. Need to better understand why your keyword relevancy is lower than a competitors? We'll connect you to the "view as search engine" feature of SEO-Browser. Have an issue with link distribution? We'll link to Ahrefs' great (free) overview. Our goal is to make you more productive, not lock you in to our toolset by duplicating what others already do well.

Personal help when you need it

Sometimes the help you need isn't a tool at all. We don't succeed unless you do, so we make sure a real person is available to chat whenever you need a hand. All plans come with free expert consulting to help with tricky issues and make sure you get the most out of your membership.