"Can I do SEO myself?"
I was speaking with my friend Kal, a SaaS startup founder, who was interesting in boosting his marketing efforts using search engine optimization after reading about it online. He read several blogs on DIY SEO for startups, doing a good bit of research on do-it-yourself SEO to help his website gain valuable organic traffic. However, Kal is way too busy: he doesn't want to try every component out there — he just needs the best SEO software for his situation.
Above all, he's looking to gain enough traction with DIY SEO marketing to make a real impact on traffic, and by extension, his business.
But is it possible to do SEO on a shoestring budget, with few resources and still make it work?
Spoiler alert: It is possible, and in this post, we'll tell you exactly how to use DIY SEO to get traction and drive traffic to your website, fast.
What is Good DIY SEO for Startups, anyway?
There are so many different components when it comes to good DIY SEO for startups. Deciding which one to choose when you're short on time or have prior commitments is more than half the battle. Many startup owners struggle with this balancing act on a daily basis. Should you put more time into marketing or should you do what do it yourself SEO you can with the time you have left at the end of the week?
If you're a startup founder, you don't need a study to tell you how busy you are. You already know. From setting up logistics and operations to hiring and crafting key messaging to attract your target audience – as a startup owner, you have to be everything at once. And yes, for a lot of founders, that's going to include being in charge of SEO for your startup.
I won't lie to you. Smart, successful SEO strategies take time and effort, but that doesn't mean you can't do it yourself.
In fact, do it yourself SEO for startups is on the rise, with many informative blogs and sources on how to improve your ranking through carefully researched methods. You can learn how to do SEO yourself if you know where to look and are willing to do the work. By learning and implementing best practices, startup owners have the ability to take charge and successfully "do it yourself". SEO doesn't have to be complicated or strenuous; it can just be another path to getting your business seen by the people who matter the most.
However, just like Kal, your time is limited. Limited might not even be the right word: you're swamped with new opportunities, emails, the latest growth hacks, and more that you can't even fathom the idea of adding one more thing to your list. Do it yourself SEO? If you're anything like most busy startup owners, you barely have time to do any research, let alone carry it out.
Well, you're in luck.
To help Kal, and his fellow startup founders like yourself, we've put together this do it yourself SEO guide – so you'll know exactly which startup SEO tips will suit your business style. In the long term, implementing these DIY SEO best practices can cut down your work hours dramatically. Smart SEO strategies mean that your blog or website will be working 24 hours a day to bring qualified, relevant prospects to your business – so you can focus on all the other tasks on your plate.
The key to getting your website on the first page is Google is knowing where to begin with do it yourself SEO. Which one of these sounds the most like you?
"I've heard good SEO takes forever. Which DIY SEO tips will deliver traffic fast?"
Yes, quality SEO can take a long time, depending on how competitive your industry is, and how many resources you can commit to an SEO campaign. But luckily, there are secrets to getting quick wins with SEO, so you can increase your traffic in a short period of time.
Have you ever heard of long-tail keywords? These are keywords that:
Consist of three or four words
Are very, very specific
Are usually less competitive and will allow you to rank for niche markets
Why would you want to optimize for something so niche? I'm sure you can think of a time when, after ten searches for "new sofa" and not finding what you want, you instead decided to search for "new brown leather sofa" and were successful. Customers are more likely to search for long-tail keywords when they're closer to the point of purchase. Adding long-tail keywords to your title tags and within the body text ensures that your website will rank at this important stage in the buyer's journey.
Get more traction with these quick SEO fixes.
Click To Tweet
Another do it yourself SEO quick fix is on-page optimization. This is the process of making a page easier to search (for both Google and your prospective clients) by altering or adding keywords and changing key attributes behind the scenes. If you're looking for the quickest do it yourself SEO process with tangible results, this might be it.
Easy Do It Yourself SEO
 

Optimization Tips

1. Improve and update old posts with keyword research. Make sure your key pages are centered around the keyword(s) you want to rank for. Take stock of your blog posts and ensure they make good use of your primary keyword, secondary keywords, and any related terms that you feel will help Google alert customers to your business.

2. Add new content or information. Google favors fresh content. Update old blogs, or add new, relevant supporting content around your target keywords to help increase your page relevancy for those terms.

3. Concentrate on "tipping point" keywords. Tipping point keywords are keywords that have you ranking high on page 2 of Google. Being so close to page 1 is equal parts frustrating and exhilarating. A few do it yourself SEO tweaks, such as changing your blog post's URL, editing the title of the page, or strategically placing more keywords within the text, can be enough to get you to the bottom of page 1.

CanIRank is an all in one SEO software solution that provides even the busiest startup owners with do it yourself seo tools, and the data needed to make smart, strategic decisions. Using CanIRank's Improve My Rankings tool, which lets users check which keywords they're already ranking for, you can easily see your most valuable keywords and their rankings. It's also ideal for researching tipping point keywords.
Page 1 on Google lists the top 10 results for a search query, so aim for keywords that are already ranking between positions 11 and 19. These are the 'tipping point' opportunities on Page 2 that you'll most likely be able to bump up to Page 1 with content optimization.
Let's use the keyword "Moz keyword difficulty" as an example. It has a search value of 480 and is worth $1,766 in traffic. That's how much you'd have to pay for that traffic in AdWords. Because you are already ranking for this page, the best thing to do is go back in and update the text, edit any image tags, and make sure your title contains your primary keyword.
Just a few on-page optimizations make a huge difference. Take a look at this before/after heat map comparison through CanIRank's Improve My Ranking tool for the keyword "ecommerce SEO."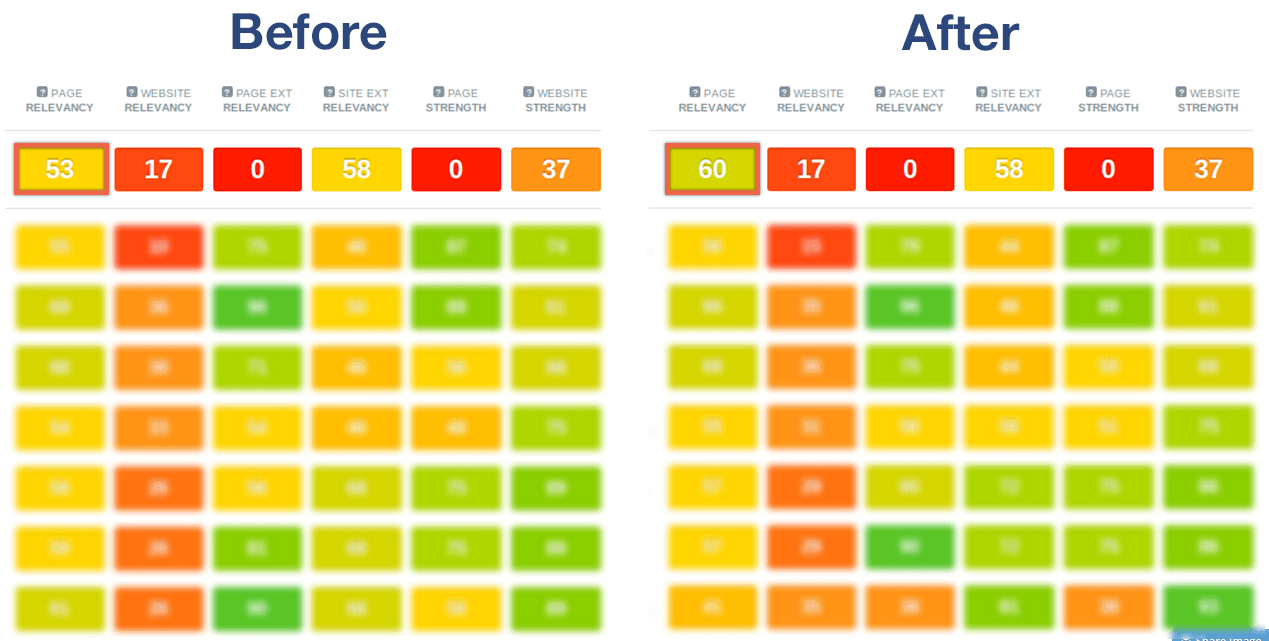 CanIRank's Improve My Rankings tool allows you to see exactly how your posts are performing on many levels, so you can specifically optimize for SEO yourself in different ways. When we deal with on-page optimization, we're looking specifically at page relevancy, which measures how many times a keyword is used, how many related terms are used, what the title and meta tags contain, and more.
With just a few DIY content optimizations on a blog post, we're able to increase page relevancy – and the likelihood that this page will make the jump to Page 1 (i.e. where all the good organic traffic comes from!)
The blog post's page relevancy bounced from 53 to 60 in just two weeks after a few on-page optimization changes. It's now higher than five of this blog's other competitors, allowing it a better chance to rank on Google. Imagine how your page relevancy can jump with precise on-page optimization in three, four, or even five weeks.
Read more about how to get the most from CanIRank.
"I have time, but I don't know which SEO tactics will deliver the best ROI."
If time is on your side and your primary concern is what type of SEO will most benefit your startup, then content writing and relationship building should form the backbone of your do it yourself SEO efforts.
Content writing and content marketing are a solid way to develop authority and establish credibility in your field. The key is to ensure that the topics you're writing about are ones that will engage your audience, and should include answers to questions they already have. By focusing your content on their interests, you'll naturally develop compelling content that will position your business as an expert in your particular field.
And don't worry, there's an SEO tool for this too. CanIRank's Grow My Content tool allows you to see exactly which keywords you have a good probability to rank for. Having greater clarity when putting together a do it yourself SEO content marketing strategy means you'll waste less time and effort on creating content that won't drive qualified prospects to your site. (So you can focus your efforts solely on those content topics that are most likely to drive relevant, engaged traffic, i.e. your people.)

For example, we're going to use "best SEO software" and see what our probability is for ranking with that keyword.
Once Grow My Content has finished analyzing the keyword, it will let you know its search volume, cost-per-click (CPC), traffic value, and ranking probability. For this particular keyword, we are already optimized at 67% based on the existing content of the primary website.
Adding strategic content to support this keyword could boost our ranking probability higher; however, because the CPC is considerably high, any supporting material would have to be incredibly competitive. Using CanIRank's comprehensive report, you can quickly discover what you need to do to compete, whether it be increasing the quality of your links or boosting your word count to a competitive range.
In addition to content writing, good relationship building can result in higher quality linking opportunities for your startup. Linking opportunities include everything from getting quality backlinks from reputable websites to guest posting. Guest posts, in particular, are an excellent way to gain traction, helping you form stronger relationships and build your brand as a key influencer.
Not sure how to find quality linking opportunities? CanIRank's Promote My Content tool was developed for this particular need, allowing you to scan through various link opportunities based on your content and keyword for maximum promotion capabilities.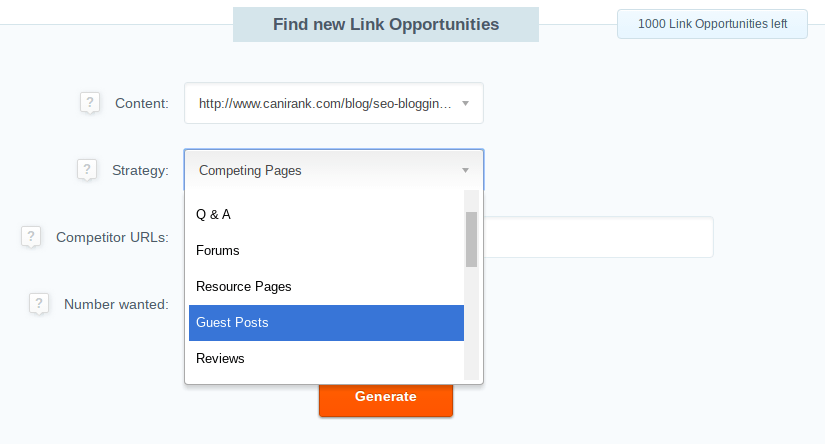 Just select the type of link opportunity you want. Is it a Q&A or Forum? Are you looking to get reviewed? In this example, we're specifically looking for guest post opportunities.
Once selected, you will be able to generate a list of sources based on your defined keyword. In this example, we want 6 sources that are related to the keyword "blogging tips."
The Promote My Content tool has pulled a list of blogs that, based on your target keyword, you have the best chance of contributing to. Even though further research is needed to make sure each blog is the right fit for your content, each entry's ranking is there to inform you how relevant the site is to your content and topic.
"I'm stuck. I just don't know what DIY SEO opportunities are worth pursuing."
You could read every blog post and resource on SEO for beginners, and still have no idea where to start with DIY SEO. In fact, many startup owners might stop at on-page optimization without delving deeper into long-term processes that can really ramp up your marketing efforts.
Don't you want a tool that just tells you what specific SEO tasks will be the most valuable for your startup right now? CanIRank offers a unique, data-driven substitute for hours of online research and 'guessing' which SEO tactics to pursue first. With the Opportunities tab, high-quality SEO opportunities are listed in an easy-to-understand (and easy-to-implement!) format.
The first tab shows the Best opportunities you have to rank for your relevant keywords. The second tab, Latest, displays opportunities in chronological order. The final three, In Progress, Delegated, and Completed, are based on the opportunity's work stage.
Each entry comes with an opportunity score (in the example above, that would be the glowing 89) that allows you to judge how beneficial an opportunity this would be for you, along with the projected value you stand to gain and the amount of time the task would approximately take. If a do it yourself SEO opportunity is worth pursuing, CanIRank's intuitive, data-based system will bring it to the forefront.
For processes that require more SEO expertise, CanIRank provides the option to either tackle the task on your own, delegate it to an experienced SEO consultant or decline the task altogether. With Opportunities, you have the freedom to pick and choose which SEO tasks you want to pursue on a timeline that works for you.
Gain traction with the best DIY SEO software for startups
Working for yourself, or building your own startup business, is one of life's most rewarding challenges – but changing the volume and quality of traffic to your website is no easy feat. For that, you'll need the most efficient systems in place to keep you on track. While there's no shortage of DIY SEO tools, we suggest you try CanIRank for free. It makes a great addition to your startup marketing stack. Or dig in further on DIY SEO for small business with this post on Lean Startup SEO (with a tip of the hat to Eric Ries!)