Many would consider keyword research an important aspect of successful SEO. No doubt, it's a vital step in a comprehensive SEO strategy. If you are someone who has either tried to do keyword research for your blog in the past without success or never even attempted it, then this guide was made for you.
What are Keywords and Why They're Important
A keyword is a word or phrase that describes the content of a webpage or blog post. As Google has evolved, it has become more sophisticated at identifying poor content and understanding the kind of content people are looking for in a search query. It used to be that you could just stuff an uncomfortable amount of keywords into your blog post to rank higher in Google, but a lot has changed in Google's "rules" (so to speak) since 2012. Now when blogs attempt to rank with methods such as keyword stuffing or buying links on shady sites, Google penalizes them, causing those sites to fall tremendously in rankings.
These keywords or keyword phrases are what people are using to search Google for what they're looking for. So if your blog has answers to their queries and they can't find your blog, doing keyword research is crucial. Follow this guide in order to use keywords to your advantage and avoid a penalty from Google.
Coming Up With Keywords
Sometimes this can feel like the most daunting part of the process but it helps to put yourself in the shoes of the person who would find what they're looking for in your blog post. If you have a blog post for your salon's blog about "quick everyday solutions for dry skin" then people who would be searching for that kind of information might search something like "how to stop dry skin" "DIY dry skin remedies" "routine to help dry skin" and so on.
There may be some keywords you have in mind already but if you're struggling to think of what keywords or phrases you should use in your research, here are some questions to keep in mind:
What would someone be searching for that your post answers? What keywords would they use?
Is your post a tutorial? Tips? A how-to? A checklist?
What keywords do other posts like yours use?
Where To Use Keywords In Your Blog Post
When using keywords in your blog, you're not limited to the title and the body of the post. There are multiple places you can utilize your target and related keywords in a blog post. Here are a few examples:
Page/Blog Title
In the URL
The filename and alt tag for the photo (if you post one)
The body of the blog (including some slight variation, at least a few times)
Anchor text to other relevant internal site pages
Meta description (150-character summary of your content page that shows in the search results of Google)
Structured data (what Google frequently uses to generate rich snippets in search results)
Types of Terms People Use While Searching
Brand Terms (Apple): This type of term is used when consumers are searching for a specific type of brand with which they are familiar. These consumers know your brand, have already done their research and are easy conversions.
Product Terms (Apple MacBook Computer): Similar to brand terms, product terms are searches for a specific product and often includes brand terms. These prospects are interested in your product and want to know more. If they like what they learn, they will likely convert.
Competitor Terms (Microsoft): Consumers searching competitor terms may have done extensive research and have already made their decision. However, others are just trying to learn what they can about brands in the marketplace. So there's a good chance some people searching for competitor terms may not be familiar with your product and could be convinced to give it a try.
Substitute Product Terms (Tablet): Consumers using this type of term are searching for similar terms to your product. Since the products are closely related, they may be willing to try yours instead.
Complementary Product Terms (Logitech Mouse): These searches are for something that goes with your product. In this case, customers aren't shopping directly for your product but might be reminded that they need it too.
Audience Terms (Easy to use computer, stylish computer): These words may be typical of the people you are targeting and the products you sell. Think of terms that describe your product, brand, and customer and use this to create a list of other terms for which people might search.
Types of Keywords Used in Keyword Research
Head-term keyword: is a popular keyword with high search volume. Usually, these are very competitive terms to rank for in search results.
Long-tail keywords: are three and four-word keyword phrases. These are very specific to what you are selling or a particular challenge or question your customer has.
Navigational keyword: keywords used to find a specific brand or website. Example: "Google", "Amazon", "AirBnB"
Informational keywords: keywords used to find information or a tutorial on a particular topic. Example: "how to…", "which are the best…"
Transactional keyword: keywords with intent to complete some purchasing action. Example: "buy jeans online", "hire web designer", "buy inexpensive computer"
Stop words: (a, the, of, for) are usually filtered out by Google in a search query.
Using Keyword Research For An Existing Blog Post
Here I'll show you how to do keyword research for an existing blog post and I'll use one of the CanIRank blog posts, 24 of the Best Free SEO Related Software Tools as an example.
This blog post is already written and live on the blog. We're going to use the CanIRank suite of tools to do our keyword research.
The first thing we're going to do is login to the CanIRank dashboard. (If you don't have a login, it's free to sign up)
Then, scroll down in the dashboard and click "Step 2, Improve my Rankings."
Then you're going to see a page like this:
Here, we are going to input the possible keywords we're researching for this post:
I used keyword amplifiers like "best" and "top" along with relevant topic keywords such as "free" "seo" "tools" "software" and I used a couple of the brand terms that were mentioned in the post, "Asana" and "F.lux".
The CanIRank Improve my Rankings tool is now going to show us:
How we currently rank for these keywords (if you don't see a number in that column, then the rank is above 100)
The estimated monthly search volume for these keywords
The estimated monthly cost to buy equivalent traffic for these keywords using pay-per-click ads
How well the blog post is optimized for these keywords
Now we can choose a keyword to use as our primary keyword and optimize our blog post for that keyword. When choosing a keyword, you're going to want to pick something that has a good balance between current rank, number of searches, value and the current optimization score.
Think of the optimization score as a way of looking at keyword difficulty. You wouldn't want to choose something with a high search volume but a low optimization score and a 100+ ranking. Ideally, you want a valuable keyword for which you can easily rank.
For this blog post, it looks like our best options are "free seo software" and "best free seo tools."
I'm going to pick "best free seo tools" because the post is closer to page 1 in ranking and the slightly higher search volume and value.
If you click on either the keyword or the optimization score, you will reach a page that looks like this: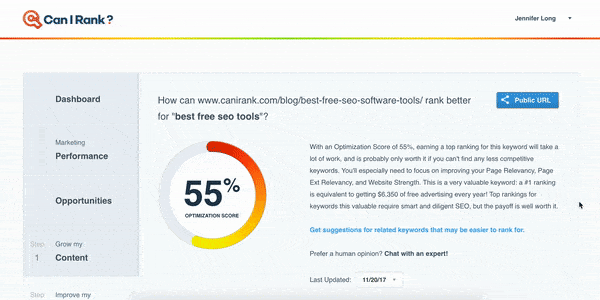 Now this page is broken up into 4 sections that are designed to walk you through optimizing your blog post for your chosen keyword.
The first section shows you the value of this keyword:
The next section shows you how your blog post compares to high ranking pages for this keyword. This will give you a sense of the difficulty to rank:
Here you'll be able to see how you compare in 6 important areas:
Page Relevancy
Website Relevancy
Page External Relevancy
Site External Relevancy
Page Strength
Website Strength
You'll also have information on the ranking competitors such as word count, Moz ranks, number of links, how many times the keyword is used and more.
Below the competitive comparison is a three-part section designed to help you target this keyword more effectively. Part one lists some relevant keywords that you should also include in your post to help you rank for your target keyword. It also shows you how many times your blog post and the competing pages use these related terms to give you an idea of how often you should use them.
Part 2 is focused on your target keyword. Here you'll get an idea of where your target keyword is currently being used in your blog post and competing pages. You'll also get an idea of how many times you should include your target keyword. You want to find the perfect balance between too few uses and too many uses of your keyword.
Part 3 shows you the same information as part 2 but focuses on related terms instead. Here you'll see areas where you could include more related terms (such as in titles, anchor text or body text) and you'll get an idea of how the other ranking pages are using related keywords.
The last section gives you a breakdown of your page's 6 key scores from earlier. For each of these scores, there's an explanation of what is being evaluated, where you fall compared to other ranking pages, and what actions you can take to improve this score.
Follow each of these sections and make the changes to optimize your blog post. Check back in about a month to see how your rankings have improved!
The process may seem daunting but I promise that keyword research gets easier the more you do it. And in the end, it pays off significantly when you start to see your blog post's rankings increase and an increase in traffic. If you found this guide helpful or would like to see a guide on a different topic, let me know in the comments!