Why Local Search Matters for Small Businesses
Before we dive into the best practices let's discuss why local SEO is important for small businesses. But why get into colorful commentary, I'll just give the facts:
So let's break this down—there are a ton of people searching for local small businesses (like yours) and almost 80% of the time those people are ready to buy your products or services…like right now!
1. Know the difference between ORGANIC and LOCAL PACK search results
There are two main sides to the local SEO marketing coin: local pack rankings and organic rankings. Where you show up and why you show up there is important so you know where to spend your precious time and marketing dollars.
Let's start with an example, if you type "lawyer austin texas" into Google you will see a result like this:
Local Pack Results
A few things to know about the Local Pack search results:
You must have a Google My Business listing to show up here

If you do not have a place of business within the city of search (or close by to the location of the searcher) you will almost certainly NOT show up here—this is important for companies who service large areas (I'm talking to you plumbers, real estate agents, and contractors!)

They almost always show up above the organic results

Desktop Local Packs have 3 results, while mobile Packs only have 1…at least until Google changes this again (Tip: screen real estate is at a premium, you really need to be in those top 3 spots!)

This is the ideal location to rank for local results as people can find your business or quickly contact you with a single tap on their mobile phone.
Organic Search Results
These are the typical blue links you have come to know on Google. A few things to know about organic results on local SERPs:
You can show up here even if you don't have a physical location in the city or area being searched, although it does help.

Typical SEO rules apply here. You need to have a strong and authoritative website with relative and informative content on it. These are especially important factors for small businesses competing against industry dominating sites.

Usually organic listings are a mash-up of actual local business websites and large directories like Yelp, Yellow Pages, Angie's List or Facebook—it's important to be on these directories as well!
2. Know which keywords to target
Although Google has gotten very sophisticated with its algorithm we still very much rely on keywords to guide SEO efforts. It's important you understand which keywords to target and why.
Commercial Intent Keywords
Simply put, these are keywords people search when they are ready to buy or make a decision. Most of the time these will be either:
Your type of business + location: "dentist anchorage alaska"

Your services + location: "dental implants anchorage alaska"
Informational Intent Keywords
These are keywords people use to search for answer to problems they have, but are usually not ready to buy. This is the research phase for most people on their path to buying from you. Using our dental example it could look like this:
"How to floss teeth the right way"

"Dental implant surgery before and after pictures"
Why it pays to know the difference
Commercial intent keywords are more competitive and harder to rank for. This is because they are more valuable to you as a business owner. Also, commercial intent keywords tend to have Local Pack results above the organic results so it pays to optimize for ensure the best local SEO practices are in effect for all commercial intent keywords.
Informational intent keywords tend to be less competitive (in terms of local SEO) and not location-focused, meaning you could serve customers in Austin, Texas but people from all very the world may come across your blog post about "How to Properly Brush Your Teeth."
It's important to have both type of keywords. Commercial Intent keywords are your "money" keywords, and informational intent keywords can help boost your credibility, gain links to your site and showcase your company as being trusted and authoritative.
That being said, if you are just getting started it's important you focus on commercial intent keywords first. Where possible, organize your content into SEO silos as these will help increase your relevancy and authority, in the eyes of the search engines.
3. Local is mobile…plan accordingly
The majority of local searches are completed on mobile phones. That means you need to have a mobile-first online presence.
Mobile site (preferably responsive)

Large, easy-to-read fonts

Large, easy-to-click buttons and menu items
Use Google's Mobile Friendly Test tool to analyze your site.
4. Get your NAP in order first!
NAP stands for "Name, Address, Phone." The important thing to note is that you want your NAP in as many places as possible on the internet (especially directory sites like Yelp and Yellow Pages). Anytime your business NAP is listed on the web, this is known as a local citation. The more local citations you have the better chance of showing in Local Pack results.
BUT they need to be exactly the same everywhere. I mean EXACTLY the same. Citations with differing information confuse Google. So what should your NAP look like? Checkout Google's My Business Guidelines for guidance, but here is the jist:
Your business name should be formatted as it shows on business cards and signage. You should use one single phone number, preferably a landline and a local (not 800) number. Finally, your address should remain consistent everywhere. Meaning if you move locations, its very important to go update your address in every local citation you have, otherwise you risk losing your local search power. 
5. NAP on your website
Now that your NAP is accurately dispersed around the net, it's time to get it onto your site. This shows Google all of those precise local citations you just created tie back to your site. It is also important you have your NAP marked up with Schema formatting.
For single location businesses it is best practices to have your NAP on every single page, usually in the footer.
For multi-location business I recommend you have a location landing page for each physical location your business has. Here is a diagram of how that would look: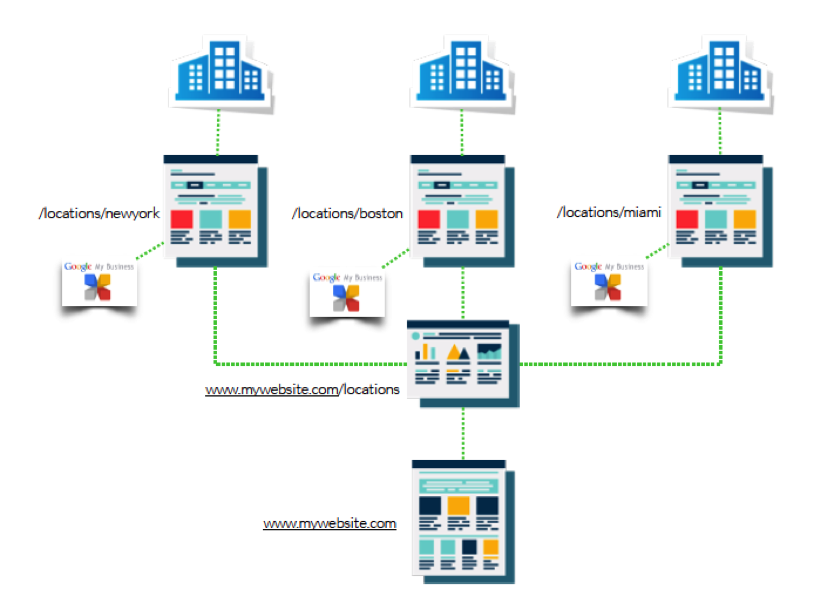 6. Citations – the more the merrier
There are tons of places to have your business listed online besides just Yelp and the Yellow Pages. Here are a few tips about getting started with citations.
Make sure you are on the big ones, ie: Yelp, Foursquare, Facebook, YP, etc. A good place to check where you have listings is the MOZ Local tool.
Search for your money keywords and see which directories show up in the local organic results and then make sure you have a profile there. This is especially important for industries like real estate and law where large industry-specific directory sites dominate search. 
Go above and beyond with your citations:
Setup your Google My Business page first…and optimize it until you are blue in the face.

Add pictures or videos whenever possible

Write unique (not duplicate content) bios for each citation

Use keywords in your bios

Include a link to your site (whenever possible include it on good relevant anchor text)

Important –> Choose the right categories for your business!
7. Reviews
Reviews are super important. Not only do they help your rankings, but companies with good reviews get more clicks and business.
Here are a few tips:
Put together a process for requesting reviews from customers

Respond to all negative reviews

Make asking for reviews a habit

Get reviews on your website (advanced user tip: mark them up with Schema code)
Try using a tool like Get Five Stars to manage your review process.
8. Service Pages
Service keyword searches are money searches for you! Make sure you have every single service you offer on a separate page and optimized for the target keyword.
An example of this would be if you are a plumber that offers "Leak Repair" and "Bathroom Installation" as part of the services you offer.  You will want to create individual pages for each of these services and target them at their corresponding keywords.  
9. Outsourcing Local SEO…Buyer Beware
There are so many snake oil SEO companies out there it's hard to find a trusted company to work with, especially with you are looking for the best local SEO company in particular. Local SEO is, unfortunately, handled very poorly, often resulting in many sites or local presences losing rankings, or worse, being penalized.
At CanIRank we have a very transparent approach to Local SEO, we always make sure the client is up to speed on what we are doing at all times. Clients have access to our project management portal and the internal documents tracking their progress. Check-out our service plans for both national and local SEO.
Here are a few tips if you decide to hire out:
Spend some time researching the company. Look for in depth blog posts and information on their site or online that shows they know what they are doing…oh and that they care.

Case studies and referrals. Find companies who have strong case studies and are willing to connect you with happy clients.

Transparency – is the SEO vendor willing to show you their action plan, share tracking documents, and keep you in the loop?

Be ready to pay a fair amount. Local SEO takes time, if you are paying a few hundred or less each month you should be skeptical of who is doing the work and the quality of the work.

If you are debating using Yext I encourage you to

read this

first.
Local SEO is not a campaign, it's a business practice. Plan and budget for the long haul, but the rewards for your time and money are very worth it.  Follow these local SEO tips and you should be seeing these rewards sooner than later!