Rethink The Ranking Game
Amazon is intimidating. They have more marketing budget, more links, and more pages than most companies could ever hope to create. Amazon has created quite a few tools and options that can definitely help grow small businesses, such as their Amazon Giveaways, but for many e-commerce sites, ranking above Amazon is a major goal to increase sales. What you have to understand about Amazon, however, is that their very size can make them vulnerable, and with the right ecommerce SEO strategies, smaller niche websites can outrank Amazon.
Amazon's ecommerce strategy is to provide access to an extremely large number of products. This broad approach also means that their strategy stretches thin in places. If you can challenge them in areas where they are vulnerable it is very possible to outrank Amazon pages.
Our Ecommerce SEO expert advice below will show you the 5 weaknesses in the Amazon dragon's armor.
The 5 Secrets To Outranking Amazon
1) High Website Relevancy
You're not going to beat Amazon by being another "Everything store". If you want to compete in ecommerce without big bucks, you need to provide focused content. At CanIRank we use the term Website Relevancy to indicate the degree to which a website's content relates to a specific target keyword. Our research shows that websites with high Website Relevancy scores are more likely to outrank Amazon.
Looking at it from the perspective of a Google search engineer, we might want the results to include both highly authoritative "big brand" websites like Amazon, and highly specialized niche "Expert" websites that go in depth on a single topic. Unless you have the budget to be one of the big brands, you will need to exercise the best ecommerce SEO practices. "Meaning your best ecommerce SEO strategy for website relevancy should include being seen as a niche expert by including rich, keyword-relevant content on your homepage, and a number of internal pages complementing and supporting the website's keyword theme.
Many eCommerce novices try to offer anything they can because the model works so well for Amazon. They forget that before becoming one of the biggest businesses on the planet, Amazon began as a bookseller. They should also know that general stores like that one cannot offer everything, whereas specialists can cater more directly to a niche. If you can offer products and services that less focused companies cannot, enthusiasts within that niche may visit your website far more often. — 3dcart.com — Jimmy Rodriguez, CFO
Ecommerce SEO Expert Case Study: Scott McKirahan, Pitching Machine Stop
Ecommerce SEO expert Scott McKirahan has effectively used the High Website Relevancy strategy with Pitching Machine Stop. Tons of highly-focused content gives the site a very high website relevancy score pushing it's ranking for "Backyard Pitching Machines" above Amazon.

Let's check out how that site looks in CanIRank's SEO competitive analysis report:
Despite much lower Website Strength, Pitching Machine Stop is spanking Amazon primarily thanks to much greater Website Relevancy. Factors contributing to their higher score include:
Large number of pages with content related to the primary keyword
High % of content related to primary keyword (content focus)
Domain name contains keyword
Home page title includes keyword
Home page content includes keyword
2) High External Relevancy
Since you have so many fewer links, you need your links to be more relevant. CanIRank assesses the strength and relevancy of your inbound anchor text with a factor called External Relevancy. Again, we see that earning high External Relevancy scores is critical to overcoming Amazon's big brand advantage. That requires getting links with keyword relevant anchor text whilst still being careful to avoid overdoing it and getting into trouble with the Google Penguin algorithm.
Besides keyword-rich anchor text, external relevancy also means links from other relevant niche pages — those specialist niche connoisseur sites that are unlikely to link to big brands.
Getting lots of great keyword rich anchor text is much easier if you understand the importance of using a keyword rich domain name.
Ecommerce SEO Expert Case Study: James Murray, DutchCrafters
 Marketing Specialist James Murray has helped handcrafted wooden furniture maker DutchCrafters outrank Amazon in a number of key products, thanks to great External Relevancy scores from quality links with keyword-relevant anchor text.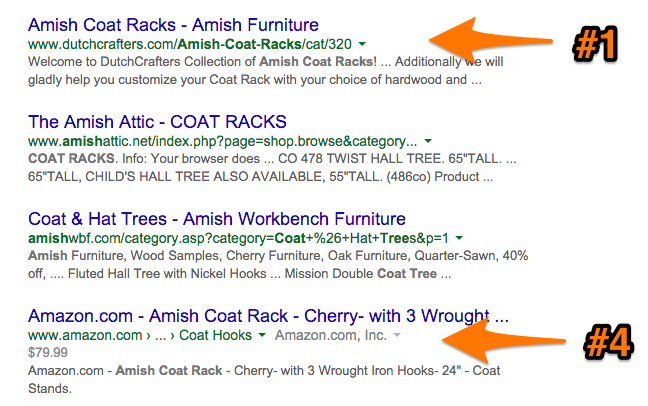 Let's take a look at how DutchCrafters achieves these results in a CanIRank report for the product keyword "amish coat rack":

DutchCrafters' wide variety of products means they can't rely on the High Website Relevancy strategy. So, they've put extra effort into attracting the right kind of keyword-relevant links from quality, relevant pages, earning them an impressive 72 on CanIRank's Page External Relevancy score. Since Amazon's size doesn't allow them to do targeted link building, most of their External Relevancy comes from links including the URL or page title, which a determined SEO can usually outperform.
According to James:
Beating Amazon comes down to quality content and getting links to that content. This is a chink in Amazon's armor, in my opinion. You need to make sure you aren't watering down your good links, which you worked so hard for, with too many junk links. …Just like with a site, you want your best links to be able to shine and tell the search engines 'Look at that, CNN likes my content!' But if there are a bunch of spammy blog comments and low quality directory links on top of that CNN link, you will have watered down the usefulness of that link. — DutchCrafters.com – SEO Expert James Murray
3) Topical Relevancy
Google wants pages that cover a topic in-depth. Amazon and many other big brand ecommerce sites use weak descriptions straight from the manufacturer.  You can do better by including more in-depth content about the keyword, use related terms, add instructional content, editorial reviews, etc. Doing this has the result of quickly improving Google rank, often pushing past Amazon.
Going back to the first report that we ran for Pitching Machine Stop we can see how the site is crushing Amazon on Topical Relevancy with scores of 53% vs. 8%.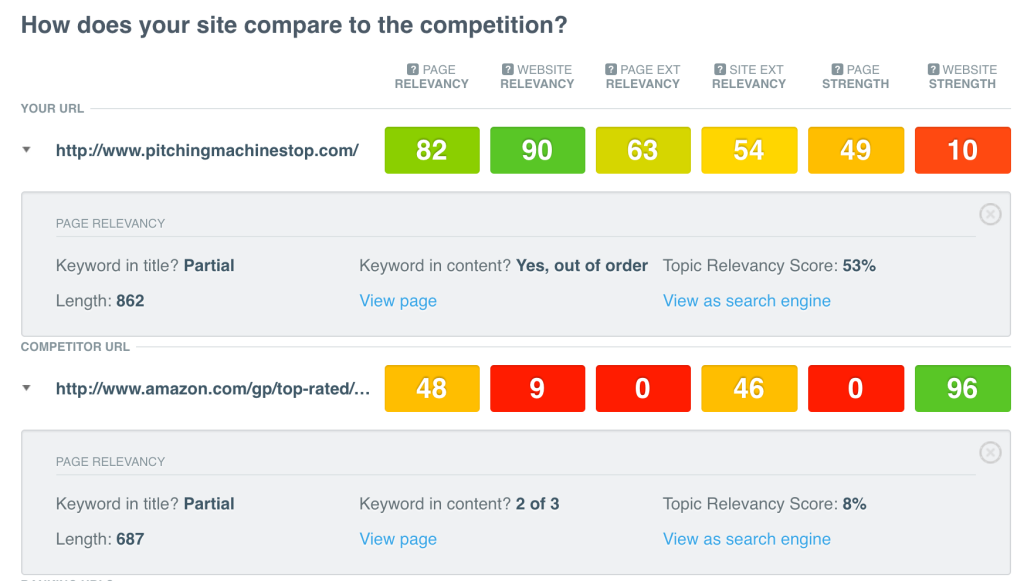 Topical Relevancy is distinct from keyword relevancy in that it relies upon using a basket of related terms on your page to communicate that your page covers the topic in detail, rather than just repeating the keyword in otherwise irrelevant or low quality text. In other words, address the keyword's meaning and the underlying searcher intent.
Pitching Machine Stop achieves this by using a number of key related terms in their content, and including those terms in places that help the search engines know they're important, like titles, headings, image alt tags, and anchor text. Their content includes about half the related terms suggested by CanIRank:
And equally important, they've included those related terms in all the right places, earning them an "Ideal" On-Page Optimization score:
4) Deep Coverage
By going in depth on your target topic you can uncover variations that Amazon doesn't explicitly target.
One way to do this is to use keyword modifiers which add value to the search but are too specific for Amazon to target. Here are some good examples of words you can add to your optimization scheme to create a more in-depth keyword profile:
best
cheap
compare
top
personalized
The content you create should be long enough to adequately cover the topic. While we have found that longer content tends to rank better with search engines, you want to match content length to what can be said about the topic. Writing an unnecessarily long discourse on a simple topic will hurt your user engagement.
Another approach is to "think around the keyword". Finding ways to target potential customers who may be searching in a specific way. Since you know your customer best, you might be able to uncover keyword variations which don't match specific product names but do capture the thinking behind how your customers are searching.
Ecommerce SEO Expert Case Study: Brandin Santa Marina, MensRingsNow
Since Amazon is so large and offers such an abundance of products, it is virtually impossible for the company to properly optimize every product page for the search engines. A person can outrank an Amazon product page by targeting keywords where Amazon has dropped the ball. – Brandin Santa Marina

In order to compete with Amazon with a newer, less established website, Brandin got creative with the keywords he was targeting, looking for variations that Amazon hasn't considered, but nonetheless indicate a strong buyer tendency.
CanIRank's Grow My Content feature helps you find these hidden gems, and give you information on which terms offer the ideal balance between keyword value and difficulty:
To get the same results on your website, consider keywords that people search before they know what product they want:
"Yoga DVDs for runners"
"best tires for mud bogging"
"gift ideas for rock climbers"
"clothing for tall thin men"
I treat my E-commerce sites the exact same way that I treat any affiliate site that I build with respect to content. I produce a ton of content that's relevant to my product(s). I only use competition metrics for deciding on the primary KWs. After that, if there is search volume and it's relevant to my product I'll write an article on it, competition be damned. — Daniel Thompson (@mylocalseo1)
5) Create An Irresistible Brand
When sites build links they often use the brand name to link back to it. This provides a boost because you're receiving so many links that contain the word "pencil". The downside is you're a little bit limited in terms of how big you can eventually make the site. — Daniel Thompson (@mylocalseo1)
User behavior can be one of the toughest nuts to crack. Users click on brands they recognize, and Google rewards sites that get more clicks with higher rankings. There are a few things you can do to counteract this:
Become a well-known brand within your niche – No beer connoisseur recommends Bud Light. You may not have the budget to become well-known to everybody, but with superior product / service / etc. you can become the go-to for the most active people in your niche.
Consider using a descriptive keyword domain name – in addition to clicking on brands they recognize, people click on domains when they contain the keywords they search — many people automatically assume that CarInsurance.com is going to be a great source for car insurance, for example.
Use an awesome attention-getting title – Make clicking irresistible.
Case Study: Two Wheeling Tots
The niche site Two Wheeling Tots is a great example of a company which has created a really fun brand and their website reflects that. They've done a few things really well:
The domain that they are using is appealing and descriptive
The site experience matches the fun subject matter
They use attention getting headlines for their content. Here's a title from a post which ranks for "bike for 4 year old" – Why You Should Never Buy a 12″ Bike (with two exceptions)
Thanks to an appealing niche brand, Two Wheeling Tots is outranking Amazon for keywords like "scoot balance bike":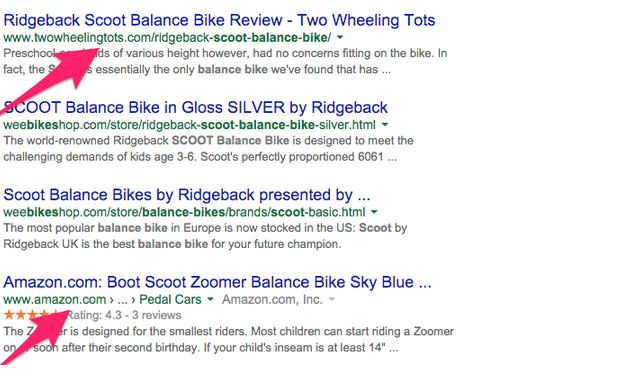 Use These Ecommerce SEO Expert Tips to Outrank Amazon
We've shown you 5 specific areas and some real world examples from the best ecommerce SEO experts which prove it can be done. To outrank Amazon you have to be persistent and willing to stick to a plan. Pick one of the 5 areas to focus on and follow the advice of our Ecommerce SEO experts.
Have questions about SEO for ecommerce? Be sure to have a look at our free 27-page Ecommerce SEO Guide.