Perhaps thinking of SEO as a battlefield is a bit cliché, but it's an analogy that applies so well.
We're constantly fighting our competition for supremacy over keywords and search rankings, looking to cover as much ground possible and expand our reach with limited resources.
And yeah, the fights can get ugly. From shady link building and black hat SEO to search algorithms that can drop us at a moment's notice, the Internet marketing landscape can be incredibly cutthroat and unforgiving.
Growing our online presence often times feels less like a lesson in marketing and more like an episode of Game of Thrones.
The battle for organic traffic is a never-ending one, especially if you find yourself in a competitive niche. The expectation to build, grow and evolve our marketing strategies to keep up with our neighbors can be incredibly frustrating.
Trying to improve our organic search presence often feels like arms-race to the top, quite literally, as we strive to be on the #1 ranking in Google for our respective keywords.
But why is that #1 spot so coveted?
Because the first page of Google is prime real estate.
A 2014 study from Marketing Land and Advanced Web Ranking noted that over 70% of clicks from organic search occur on the first page of Google. Specifically, the first five results get approximately 67% of clicks; meanwhile, the top spot alone gets over 30%.
In short, getting the most out of our keywords is a winner-take-all battle: if you aren't in the top spots, your competition is reaping the benefits and the traffic.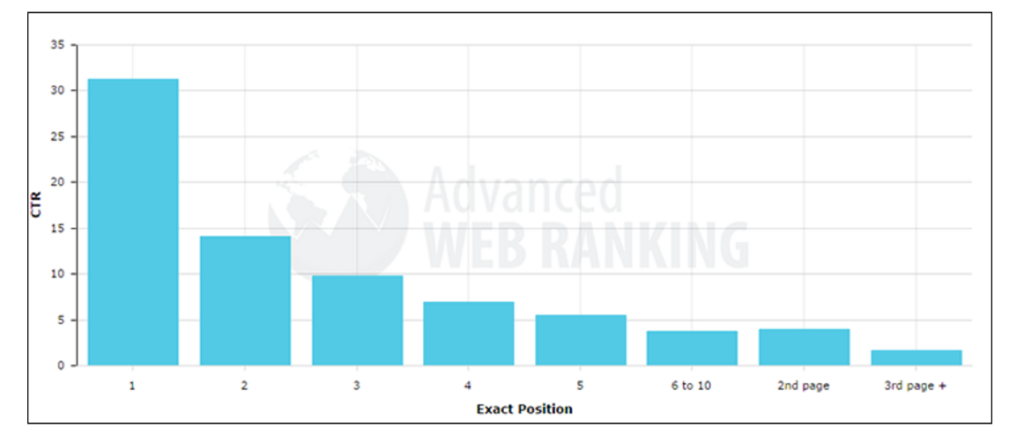 Fighting for Traffic
Thankfully, you aren't alone in this fight.
Thousands of marketers ask themselves the same question every day: how can I outrank my competition? What do I need to do?
Conventional wisdom tells us to create more content, launch an aggressive link-building campaign and network like there's no tomorrow. However, where will the time, energy and resources for such efforts come from?
75% of small businesses understand the effectiveness of Internet marketing yet are only able to allocate so many resources to grow their online presence before they stop seeing a positive ROI.
It's a familiar story: your competitors have a bigger budget, a larger team and more room to grow.
You feel outmatched and helpless.
So that's it. Game over, right?
Wrong.
The key to fighting for traffic is about working smarter and not necessarily harder.
You don't need to hire a "guru." You don't need to break the bank, either.
You just need to strategize and figure out how to steal your competitors' traffic.
Know Your Enemy
Competitive analysis is arguably one of the most overlooked aspects of marketing that businesses often take to one of two extremes.
Businesses ignore their competition in lieu of "blazing their own path."
Businesses obsess over their competition, tracking their every move, constantly thirsty for updates to see what they do next.
The problems with both approaches are pretty obvious.
If you aren't paying attention to your competition, you're aloof to potential marketing opportunities and probably leaving money on the table. On the flip side, obsessing over your competition is just another form of procrastination as you sit on the sidelines instead of doing something.
You can't simply wait for your competitors' traffic to drop out of the blue.
Instead, take action.
Therein lies the question: how do we know what keywords our competitors are ranking for and whether or not we could realistically rank for them ourselves?
Oftentimes, competitive analysis results in a guessing game. 63% of marketers rely on intuition to drive their marketing decisions; however, wouldn't it be more prudent if our search strategy was instead driven by data?
We can tinker around in the Google Keyword Planner and comb the content of our closest competitors in search of keyword ideas, but what if there was a better way?
Thankfully, there is.
Assembling Your SEO Arsenal
We live in an age of transparency, where the sheer amount of data available concerning our competition can be absolutely staggering. For example, there are a myriad of SEO tools available to help understand where your traffic's coming from and how you can effectively compete for it.
However, for the sake of saving time and energy, consider how CanIRank's robust SEO competitor analysis tools can help you understand exactly what's "under the hood" of your competition's sites rather than just skimming the surface.

While most SEO solutions provide a brief overview of your competitor's traffic and perhaps a couple of keywords they're ranking for, CanIRank takes the data a step further. How so? By providing…
Straightforward action items you can take with your content, including content and keyword ideas you could potentially rank for, an estimated time investment and the projected value of each action
Potential link-building opportunities, including specific sites to reach out to and suggestions on what pieces of content you can target for links
An overview of sites competing for keywords in your space, including the strengths and weaknesses of your website's content and relevancy versus your competition
Think of CanIRank as a swifter, smarter way of spying on the neighbors versus the traditional grind of competitive analysis. By having specific competitive data at your fingertips, you can take a smarter approach to SEO and find new keyword opportunities versus grinding for terms that you can't realistically rank for. Essentially, enabling you to steal your competitors' traffic with less effort.
Getting in the Trenches
Tools such as CanIRank can provide you with the information and analysis necessary to figure out what terms you can dominate; however, it's still up to you to get in the proverbial trenches and create the appropriate content to make it happen.
Targeting Long-Tail Low Competition Terms
Perhaps the most straightforward approach to attacking keywords is targeting long-tail and low competition terms in your niche. These are phrases that are highly specific and longer in length than commonly searched for terms. Although they receive less traffic they typically convert better than broader search terms.
For example, let's say you run a local fitness business that customizes diet plans for your clients. Trying to rank for keywords such as "weight loss" or "diet plans," which receive hundreds of thousands of monthly searches, just isn't going to happen. No way.
However, more targeted keywords (example: "intermittent fasting diet plan" with 1,900 searches) or geo-specific terms (example: "nutrition Toronto" with 1,300) would be much, much more realistic as they have a lower search volume and fewer competitors.This is the most effective way to steal competitor traffic.
Be aware that some long-tail terms can be ultra-competitive even though they have low monthly search volumes. When evaluating your site against competitive sites that rank on the first page for a particular term, there are six factors you want to consider.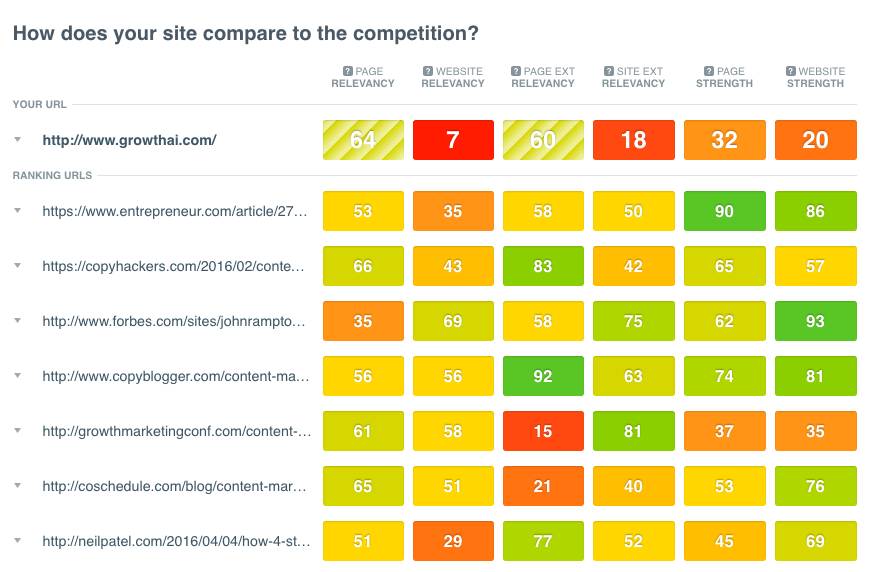 The four relevancy factors; page, website, page external and site external refer to the relevancy of the site and page to the proposed search term. The two strength factors; page and website factor in the authority search engines attribute your competitors' page and website. Ideally, your competition will have low relevance and low authority in relation to the search phrase you wish to target.
Meanwhile, strive to create content that goes above and beyond what's already out there. Creating thematic based content for your blog gives search engines the signal that your site is a valuable resource for visitors. Organizing content into an SEO silo is a signal to Google that your website has an organized structure that is topic-fcoused.
Let's use the fitness site example again. Think about what's more valuable to your target audience: a step-by-step, how-to guide for creating your own diet plan with firsthand, high-resolution images or a 500-word keyword-stuffed blog that you spun from Wikipedia?
Finally, take some time to explore new content opportunities within your niche by understanding what your audience is talking about via the social network. While social media can quickly become a time-sink, it's a great way to find inspiration for content and understanding the problems facing your potential customers. Just don't get too caught up in the discussion while you're there.
Get Traffic From Competing Pages
Getting links from competing pages can significantly help to get your website noticed. To use this tactic you need to find where your competing pages are getting their links. If you can get a link on these same pages, then you can potentially nab some competitor traffic.
Although there are many ways to do this, we prefer using the CanIRank Promote My Content tool.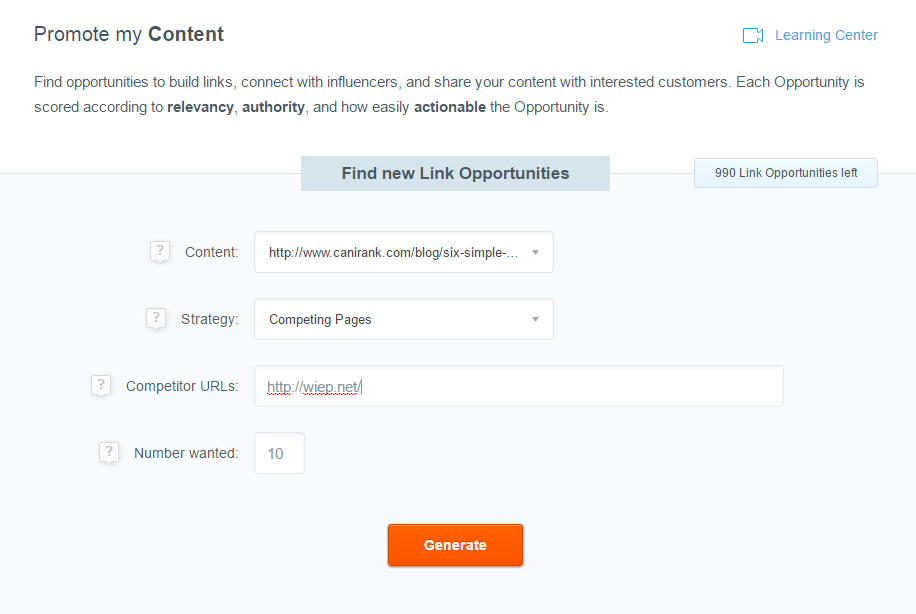 Using this strategy, CanIRank goes out and finds other pages linking to your competitors' similar content and returns a list for your review. Focus on those opportunities that rank the highest, ensuring that any target site is frequently updated, highly relevant and not affiliated with the competition.
It's far easier to get a link from these sites if your content is better, different and adds value in some fashion. Ensure your content is worthy of a link before approaching these publishers.
Competing Websites Strategy
While the previous strategy looked for pages linking to your competitors' similar content, this tactic looks at pages linking to anywhere on a competitor's website. Get the same links as your competitor and you can get some competitor traffic.
You'll find that there are a lot more opportunities once you remove the content restriction. However, the overwhelming number of results presents another challenge. How do you wade through all the possibilities to find the best ones?
While there are many different tools that find backlinks to a competitor's site, the CanIRank Promote My Content tool goes a step further and ranks each opportunity on a score of 1 to 100 based on a number of factors including the relevance and authority of the page, and the percentage of external links that are dofollow.
Again, focus on the high ranking opportunities to make the most use of your time. Evaluate each opportunity on a case-by-case basis to determine the best way to approach the publisher. Linking to the competition doesn't automatically mean they'll be interested in linking to your company.
When approaching a publisher, give them a compelling reason to link to your site. The fact that you want a link is not good enough and can work against you. Think of it from their point of view. What's in it for them? The better you can articulate the benefits of linking to your site, the greater your chance of success.
Get Competitor Traffic by Capitalizing on Competitor Mentions
Chances are pretty good there are pages on the web mentioning your competitors but not you. Take advantage of these situations to bring more targeted traffic to your site. If their readers are interested in your competition, they're probably interested in you.
The simplest way to find these opportunities is via CanIRank's Promote My Content tool. "Competitor mentions" is just one of the 17 strategies available.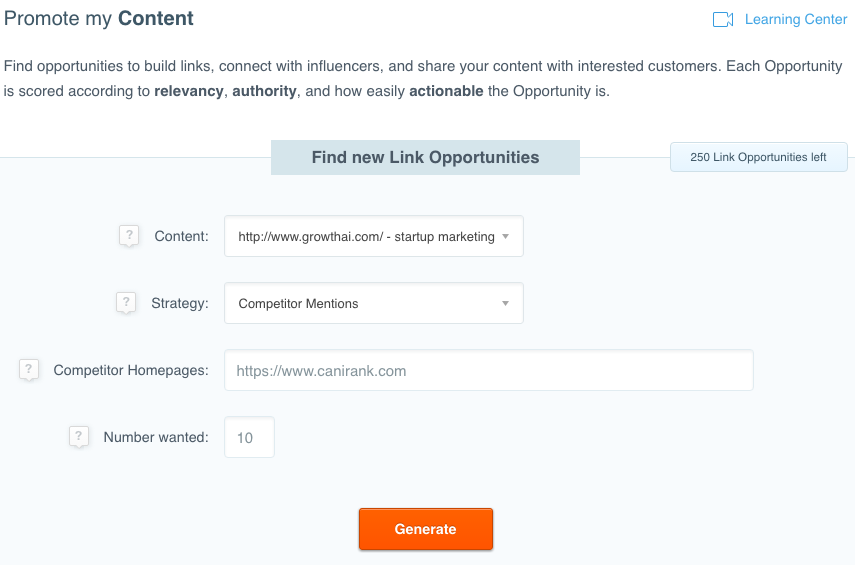 As with the previous tactic, concentrate on high ranking opportunities to maximize your return on time invested. Remember, just because a publisher mentioned your competition doesn't automatically mean they'll include your company. Every case is different, so you'll need to approach each one individually.
If your competitor got a review, perhaps you could be listed on that page as an alternative. If they were listed as a resource, including your company would make the page all the more comprehensive.
Are You Punching Above Your Weight?
Unfortunately, many small businesses give up on SEO because they're punching above their weight.
Don't be a casualty of your competition. Instead, strive to compete for traffic in a manner that allows you to take specific, smarter action rather than taking shots in the dark. We have a list of strategies for SEO on a small budget that won't break the bank.
Battling for your competitor's traffic doesn't have to be a guessing game. Understanding the ins and outs of your audience alongside tools such as CanIRank can take your keyword and content can give your site a true, fighting chance.