In the early days of CanIRank Full Service, we offered a much more limited service offering at a lower price point. Even though our monthly subscription costs were lower (around $500 – $1500 / month), the ROI was limited because we didn't have enough hours to address all of a site's weaknesses. We optimized content, but clients didn't have a promotion process in place to earn links to it. We identified website issues, but the clients had no technical resources to get them fixed. We struggled to build domain authority and brand reputation without also creating a brand story so that journalists were eager to write about (and link to) clients in the first place.
It didn't take us long to realize that SEO as an isolated, narrowly-defined service is ineffective for most websites. As an analogy, SEO is a bit like a car, where many interdependent components work together to make it go. If even one component is missing or sub-par — the  suspension, engine, transmission, interior, 4 wheels, etc — the whole car is pretty much useless.
To get results in SEO, there must be a coordinated strategy and collaboration across all content-centric inbound growth marketing channels to get the best results. If clients didn't have the resources in-house to handle PR, social, technical, outreach, analytics, brand development, copywriting, conversion rate optimization, etc., then we would need to take care of those things as well.
"Before working with CanIRank, we had a great website, but we struggled to find our audience. Within just a few months, CanIRank helped us achieve significant growth in targeted organic search traffic."
Sophie Knowles
Co-Founder
PDF Pro
The SEO Paradox: get a better ROI by paying more
We kept our hourly rates low, but raised the price of our monthly subscription packages to include more hours and additional marketing specialists on each account.
Despite the higher upfront costs, our clients' ROI skyrocketed. Higher rankings came more quickly and organic traffic gains were much greater. Some clients used us as a complete outsourced marketing department (getting 5 experienced specialists for less than the cost of a single in-house marketer) and saw traffic increases of over 100,000%!
Equally important, however, were the gains clients saw in areas not usually associated with SEO. Conversion rates increased as visitors had an easier time finding the information they were looking for, and were more convinced by the copy they found there. Clients' brand reputation and executive profiles were buoyed by numerous PR mentions and thought leadership pieces published in their name on sites like Forbes, Inc, and Entrepreneur. Our outreach efforts were so comprehensive, new customers would tell clients "I saw that you provided a helpful answer to a Quora question (us), Googled for some blogger reviews (us again), then went to your website to download your latest whitepaper" (also us).
Old school types might argue that what we're doing isn't really SEO, but "growth marketing" or simply full service digital marketing. Whatever you want to call it (organic, growth hacking, inbound marketing, content marketing, outsourced CMO, etc…), it's clear that the best ROI comes from a coordinated and comprehensive campaign unifying strategy across all content-centric channels. When comparing the cost of different SEO solutions, make sure you're incorporating all of the components you'll need to get results. If a consultant or agency can't execute well in all of those areas, you'll need to bring in additional resources (at additional cost and management overhead) to cover them in order to achieve an ROI.
How to maximize ROI from SEO
New client prospects are frequently focused on the top-line cost of SEO consulting, with an eye towards comparing the price of various SEO agencies so they can pay as little as possible. But the value, and even the definition, of SEO varies widely. A spammer who clicks one button to auto-generate thousands of junk links, and a team of experts who completely overhaul your website, triple your conversion rates, and land you press coverage in the New York Times may both describe their product as "SEO", but they're obviously not the same thing. With different services using widely varying definitions of SEO, the real question isn't how much SEO costs, but how much should you spend on SEO?
Fortunately, it's an easy answer:
You should spend the amount that maximizes your ROI while remaining within your budget constraints.
Let's break this down further. If you invest too little in marketing, no one will discover your products and you'll generate $0 in sales. As you spend more, sales gradually increase until you reach a point the market starts to saturate, and you'll generate less and less revenue for every additional dollar of marketing spend. Mathematically, your revenue generated follows a sigmoid (S-Curve) that flattens as marketing spend increases, like this: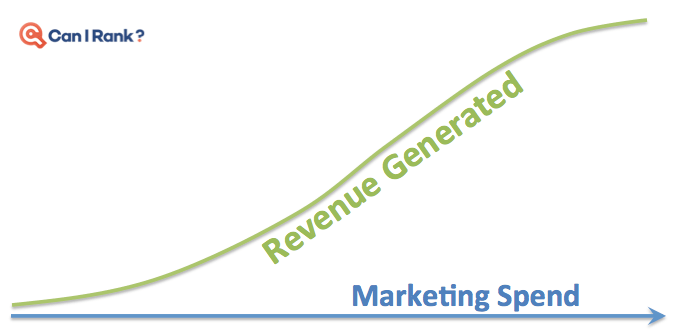 As a result, marketing expenditure has a sweet spot someplace in the middle where the ratio of the revenue generated to your marketing spend is highest. This is the point of maximum Return on Investment (ROI):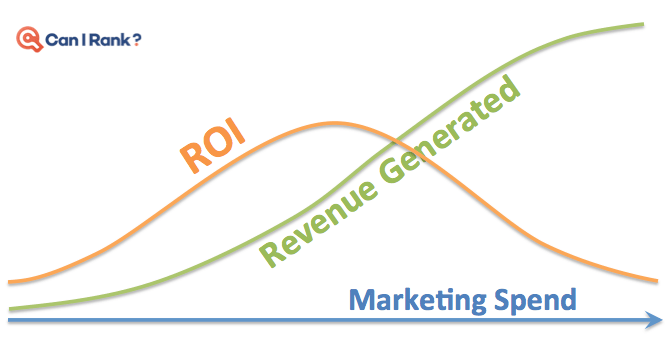 The ROI of SEO work is determined more by what gets done than how much you paid for it
In other words, it's better to get a bad deal on the right thing than a good deal on something that won't help your website no matter how little you paid for it.
Don't get so focused on cost that you fall for the biggest scam in the SEO industry
Of all the many reasons the SEO industry has a well-earned bad reputation, I believe the biggest is that most agencies and consultants sell what they can do, rather than what the client website needs. For example, many agencies emphasize updating a site's meta tags (while ignoring the rest of the content). They put a lot of time into technical audits (without being able to fix those issues), keyword research (without a viable site structure to target those keywords), and writing of blah-blah blog posts that neither earn links nor engage customers.
These activities sound reasonable to a client, and they can be completed by almost anyone with a little SEO training. They avoid the "hard stuff" which requires much more skill and deeper understanding of a client's business: earning high quality links, restructuring a website, creating a unified content strategy, earning press, improving conversion rates with an engaging brand story, etc.
"CanIRank takes a much more detailed approach to SEO which lets you know exactly what you need to do to get the results you want."
Neil McLaren
Director
Vaping.com
Unfortunately, it is usually the "hard stuff" that generate the greatest returns. Many clients have weak conversion rates caused by a misalignment between what their customers are looking for and what their site offers. Others need their site structure revamped to better reflect the customer's research journey. Nearly all startup, ecommerce, and SME clients come to us with a domain authority / Website Strength way below competitors, and the kind of easily-generated commodity links (guest posts, PBNs, profiles, blog comments, etc.) that most SEO agencies generate are no longer effective at addressing that weakness.
Today's SEO rewards quality and relevancy over quantity. A good rule of thumb is to ask yourself whether the work your agency is doing makes your website better and benefits your business in ways beyond mere search engine rankings. Effective modern SEO looks a lot more like "good old fashioned marketing" than it does the spam and manipulation of 5-10 years ago. As search engine algorithms continue to improve, the worlds of SEO and "good marketing" are increasingly converging. Get out ahead of the curve and invest in your business' future by getting it done right the first time, even if the upfront cost is slightly higher!