In the quest to find some decent free photos on the web, you can spend a lot of time looking with little to show for your effort. So we created this guide listing 21 of the best free image sites, six practical and easy to use image processing tools, plus a short primer on image licensing and copyright.
While there is no shortage of free image websites, quickly finding quality stock images is another story. If you've ever tried it, you know what I mean.
From the countless number of websites offering free images, we put together this curated short list of sites providing gorgeous, high-quality alternatives to stock photos. We whittled down our huge list to just this select few, eliminating many that did not make the cut.
Which Free Image Sites Made the Cut?
Obviously, we're only interested in sites that provide high-quality royalty free images. Since time is money, we also removed any image banks that were non-searchable. Browsing may be fun, but it's way too time-consuming.
In a similar vein, we disqualified those websites that presented a poor user-experience. It meant removing ones with too many ads that proved to be a distraction. Some sites put ads directly on top of the images or had "download-type" ads that could trick users into clicking on the ad instead of downloading the chosen image.
Unfortunately, we also had to exclude those image sources that were primarily email based. The overhead of receiving and organizing weekly emails full of pictures is just too much for the average startup or small business owner.
To keep things simple, we showed preference to websites with just one license for all their images. In the spirit of simplicity, we also eliminated those with unclear licensing.
Editing Your Free Images
Now once you found the right image, what are you going to do with it? You'll most likely edit it in some way before posting it online. If you're a cash-strapped startup, that means doing the work yourself and not hiring it out to a graphic designer. So you're going to need some simple, easy to use, yet powerful image tools to optimize your images for SEO.
Just like our curated list of free image sites, we've put together a similar list of image tools. However much fun it may be finding pictures and editing them to your heart's content, we would be remiss if we didn't bring up the issue of copyright and image licensing.
Bear in mind we're not lawyers, so don't take anything we say regarding this matter as legal advice. We know SEO, but we don't know copyright law. Are we clear? Still, we do want to highlight a few common sense points on the use of online images in the hope that it keeps you on the right side of the law.
Now let's have some fun!
The Curated List of Free Photo Sites
This select list of free image repositories covers a broad range of subject matter. These sites together offer thousands of searchable pictures, enabling any online business to quickly find the right quality photo for their needs.
Unsplash
Unsplash offers a large number of high-resolution photos licensed under Creative Commons Zero. Crew, the people behind Unsplash, have gone to great lengths to make finding the right photo easy. Two grid sizes allow users to adjust the number and size of photos displayed per page. There are three ways to sort images according to latest, popular, and oldest. Visitors can quickly browse through the newest photos or collections, which can also be filtered according to whether they are featured or curated.
Browsing is fun, but if you're under pressure to find just the right image, you'll appreciate their smart search feature which pulls in results as you type in the search bar. Any matches are displayed on the screen categorized into users, collection, and images. Collections also show how many photos each one contains. Unsplash is so popular, it is featured on our list of 24 free SEO related tools. 
Pexels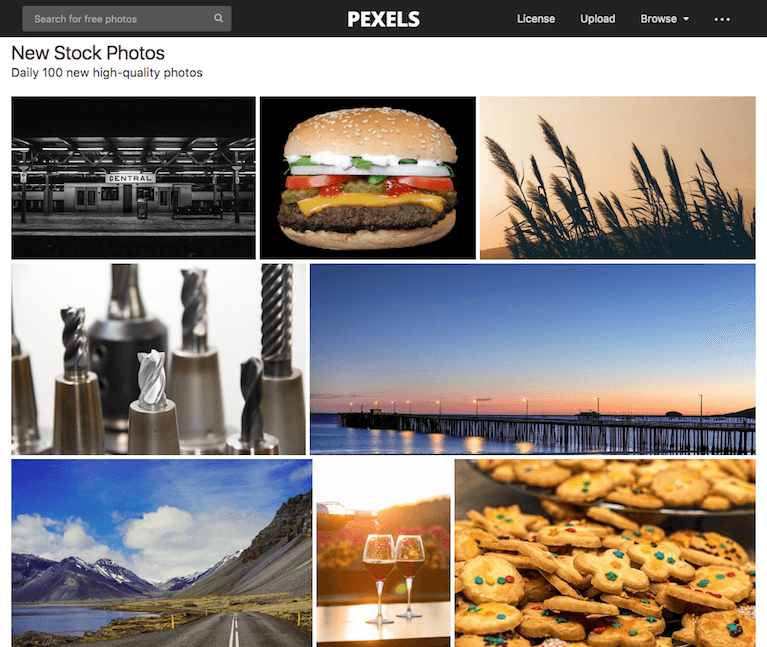 According to the company, Pexels provides the "best free stock photos in one place." The fact that they're all licensed under Creative Commons Zero and easy to find make this a favorite site of many.
There are numerous ways to search the site and results come back amazingly fast. On the homepage, you can click on one of the popular searches, look at photos, check out top photographers, browse photos by color, peruse the daily 100 new photos or type a keyword into the search bar.
Along with the results, you'll see some related searches that you can click to execute, if you don't immediately find what you need. Advanced search features include allowing words to be excluded and colors to be included.
StockSnap
StockSnap is a repository of beautiful stock photography all licensed under Creative Commons Zero. The site is courtesy of Snappa, the graphic design tool.  Each week their team curates hundreds of stock photos found on the web and uploaded from select photographers within their network.
Run your own search from their homepage or click on one of their most popular searches. Results are displayed on a grid framework three images wide and infinitely long. They can be sorted according to date, trending, views, downloads and favorites in either ascending or descending order. Each image displayed shows how many times it's been viewed, favorited, and downloaded.
Clicking on an image opens up its own dedicated page where you can download the photo. Here you can see which tags have been assigned to the image. Clicking on a tag immediately executes a search for similarly tagged photos, expediting the process of finding comparable images.
Picjumbo
With over 4 million downloads in its first three years, Picjumbo is a popular place to get free photos. Although not licensed under Creative Commons, pictures are free to use subject to the terms outlined on their page. Images can be found using the search bar, or by selecting one of 16 standard categories from a drop-down menu at the top of the page.
Part way down the page is a selection of 6 different "popular topics" like business, food, and nature. Clicking on one of these themes executes a search of images with a matching tag. These topics are essentially tags, but it's not clear if any other tags exist outside of these six.
What makes Picjumbo unique is that any image can be taken for a "test drive" before downloading. Here the chosen picture is presented as a full-screen image with real text background in eight different scenarios, giving the user a good idea of how it will look on their site.
Negative Space
Negative Space posts 20 free photos to their website every week, all licensed under Creative Commons Zero. Images are sortable by category, color and copy space position. This last item is what make Negative Space unique in its field.
Copy space position refers to the area in an image where you can put some text. In Negative Space, search results can be filtered to show only photos with space the right, center or left side where some text can be placed. This function is ideal in situations where you're looking for an image to fulfill a particular role within the layout.
Gratisography
Gratisography offers images under a license similar to that of Creative Commons Zero. Photos are classified under one of six general categories which feature a one-click search. Alternatively, you can use the smart-search bar which instantly grabs results as you type. Downloading is fast too, just click on an image in the result for immediate download.
Pixabay
In addition to photography, Pixabay provides illustrations, vectors, and videos all licensed under Creative Commons Zero. Browse among photos in 20 different categories or conduct your own search. Perform advanced searches on media type, orientation, category, minimum dimension, color. Refine your search using operatives (e.g. flower AND (red OR blue) NOT rose) and even search user portfolios.
ISO Republic
ISO Republic makes available a decent number of photos free to use under their own license. Images are organized six different categories. However, each image sports at least one tag that can be clicked to execute another filtered search. Each photo has its own download page complete with related images for additional downloading.
Magdeleine
Images in Magdeleine photographic depository are available under some form of Creative Commons Licensing. Fortunately search results can be restricted to only those licensed under CC Zero or ones requiring attribution. Users can browse through one of the eight categories or search for specific photos. Every image has multiple tags, including color, that can be used in searches
Stokpic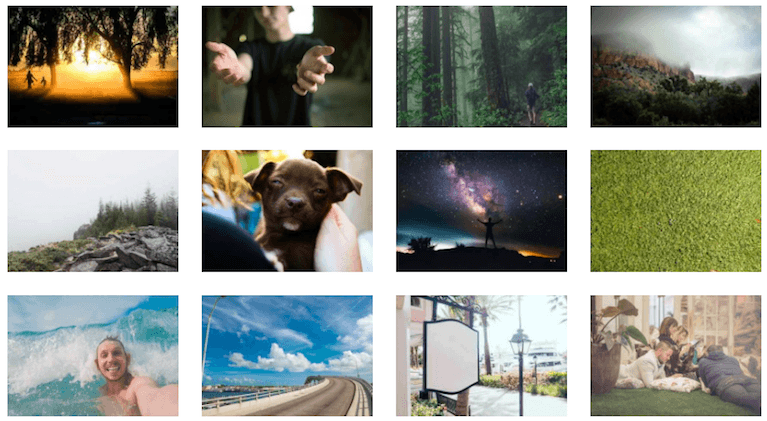 Photos in the Stokpic collection are organized into 16 different categories. Most images are offered under the company's own license although a few are licensed under CC0. Up to 18 pictures can appear on a category page, and each category can have multiple sub-categories which can be accessed from this page.
Skitterphoto
Every day a new CC0 licensed image is uploaded and placed into one of nine Skitterphoto categories.You can browse through the most popular photos in each category by selecting a predefined search from the drop-down menu. Typing your own search string into the search bar which also looks for matches in each image's description. Searching by tags is also supported, although you have to click on a photo to see its tags, which can then be clicked to search once more.
DesignersPics
DesignersPics licenses their images under their own terms, although they are free to use, and no attribution is required. Photos are classified under one of the nine categories which can be browsed, or you can type your query directly into the search bar. Every picture has its own page that also shows related images in addition to its associated tags, which likewise can be searched.
Good Stock Photos
Seven categories and 27 subcategories help keep the images in Good Stock Photos organized. All photos on the site are licensed under the company's terms, although they do not require attribution. Browse the categories or use the search bar to find what you need. Every picture has its own dedicated page which in turn shows up to a dozen related images, plus searchable tags.
New Old Stock
If you're looking for vintage photos, you've come to the right place. The pictures in New Old Stock have been sourced from public archives and are "free of known copyright restrictions." Here are the details on their licensing. While there are no categories or tags, a search bar is available. Each picture contains a link to the original source where the copyright status may be verified.
Tookapic
Tookapic provides over 20,000 free images and nearly as many premium stock photos on their site. According to their license, free images require both author attribution and a link back to the tookapic site. Results can be filtered to show just free pictures, only premium photographs or both. Photos are organized into 21 different collections including business, technology, lifestyle and people.
Pikwizard
Pikwizard has over 100,000 completely free images on their site, over 20,000 of those are exclusive to Pikwizard alone. They are consistently adding new images to their library daily and their ultimate goal is to get to more than 1 million images. With a heavy focus on stock photos of individuals, Picwizard's collection is a lot more diversified than other models.
The Curated List of Free Image Tools
Once you've found the right picture, there's a good chance you will need to perform some image editing and manipulation. This list of free graphics tools has you covered. All of them can be accessed through an internet browser, making for minimal hardware requirements. None of the tools require any design experience, so they're a perfect fit for marketers working in a small business environment.
Canva
Canva offers a simple way to design everything from blog graphics to social media covers, including offline materials like business cards and posters. You can start with a custom layout or a blank page, searching and dragging your way to a beautiful design. The free version also allows you to create a team of up to 10 members so you can collaborate on your work.
Snappa
Snappa bills itself as "The easiest graphic design tool you'll ever use." Pre-sized templates are available for all types of social media posts, ads, and headers. You can also create your own from scratch. Tightly integrated with StockSnap, providing immediate and easy access to thousands of free images.
Placeit
Quickly create realistic mockups and demo videos with Placeit. Just drag and drop your image onto the photo to make it look like someone is using your app. There are thousands of free iPhone, iPad, iMac, Macbook, Android and desktop mockups. The best part is that you don't even need Photoshop!
Kraken
Kraken optimizes your images and accelerates your website, creating happy users, better SEO, and potentially more business. Running images through Kraken significantly reduces their size while maintaining quality. Their WordPress plugin enables automatic image compression when files are uploaded, creating a smoother and faster workflow. But reducing image size is just part of the equation. SEO for Web Designers has some simple steps you can take to optimize your SEO design.
Venngage
Quick and easy to use, Venngage has everything you need to create and publish infographics. Just choose a template, add charts and visuals, then customize your design. A number of well-known marketers swear by this app.
PicMonkey
Forget the manuals. PicMonkey makes it easy to create eye-popping beautiful photos in minutes. Quickly add a drop shadow or any number of effects to your image before adding it to your blog. Quickly touch-up a photo to give your social media profile some pizzaz.
Fotor
Fotor covers three important and ease to use images tools: photo editing, photo collage, graphic design. That means Fotor can not only allow you to edit your images simply via its photo editing suite, also help you create some custom photo layouts and graphics such as cards, poster, invitation quickly!
Copyright and Image Licensing in Plain English
Notwithstanding the prevalence of images on the web, and despite the fact that they are so readily available, they're not all free to use. In fact, you may be financially liable for taking advantage of an unlicensed image or for not complying with the license you have.
It doesn't matter that:
You found it on a popular social media site.

You provide attribution and a link back to the photographer.

You don't make money from your blog.

You remove the photo from your site after receiving a DMCA takedown notice.

You post a disclaimer on your site.

You've modified the image in some way.

The picture is embedded but not saved on your server.

It was an innocent mistake.
Realize that there are bots out on the web whose sole purpose is to sniff out unauthorized image use. I say this not to raise fear, but to impress upon you the importance of only using images to which you have the rights.
Here are some common sense guidelines to help keep you out of trouble when using other people's images:
Only use images for which you have a license.

Read the licensing agreement and make sure you understand your obligations.

Consult a legal professional for questions about the license.

Refer to the first three rules if you're still not clear.
While many sites have their own particular licensing agreements, many repositories of free images license their work under Creative Commons. According to their website, there are over 1.1 billion works licensed in this manner.
Currently, there are seven Creative Commons licenses, of which CC0 is the least restrictive. Works licensed under CCO, sometimes referred to as CC Zero or Creative Commons Zero, reside under public domain. "You can copy, modify, distribute and perform the work, even for commercial purposes, all without asking permission." Here's a human-readable summary of the legal code.
The openness of the license is what makes CC0 so attractive from an end user standpoint. To some degree, you can use CC0 licensed images however you wish. Note that neither patent, trademark, publicity or privacy rights are affected by CC0. If you're concerned about this or any other issue we've mentioned, then consult a lawyer specialized in this area.
Although images help to make content attractive, remember that you can't put lipstick on a pig. If the quality of your content is poor, you're targeting the wrong keywords, or your site lacks thematic content, you'll most likely be disappointed with the resulting lack of traffic.
Use CanIRank to find the right keywords for which you can rank, links you can get, and on-page optimizations that will truly move the needle.