Since social networking can be a huge time-sink (with a good chunk of small businesses admitting that they waste time on Facebook and Twitter) it's incredibly easy to dump hours in social media without getting much of anything in return.
Despite its perception as a distraction, social media can (the keyword here is can) result in a positive ROI for your business in terms of acquiring new customers, building your reputation, and contributing to your website's SEO. But it's important to first understand which social media sites are the right fit for your business.
Why Do Businesses Use Social Media?
Here's the thing: there is no one-size-fits-all approach to social media marketing.
There is no blueprint or formula that works for everyone, and this is perhaps where most businesses who flounder via social go wrong.
Although there is no "right" way to approach social media, you should first understand the benefits of social media for business which are pretty much universal, regardless of your niche or industry:
The ability to target and converse with potential customers directly

.

 While the growing number of social channels may tempt us to spread ourselves too thin, consider how different sites perform with different niches (for example, 85% of Pinterest's users are female, making it a prime platform for a site with a female-driven audience).
The opportunity to grow your status as an influencer and share your on-site content

.

 This may not seem like groundbreaking advice; however, the social network is perhaps the most powerful place to curate your content. Given that 30 billion pieces of content are shared monthly on Facebook, you have a greater likelihood of gaining traction via social versus simply relying on organic traffic as a newbie. Likewise, platforms such as LinkedIn Pulse allow you get more mileage out of your existing content

and

 help boost your reputation to a new audience.
Serving as one the four major criteria for your overall marketing performance and visibility in search engines, links obtained through social media can represent

positive search signals to Google

 and may encourage a osteady stream of traffic that can help you build links and start ranking for new keywords.
The importance of social media in business is clear. The question remains: what social media should you use, and how can you ensure that your time is well spent?
9 Top Social Media Sites for Businesses
With so many social media sites out there, it's crucial that businesses manage their time and resources wisely. Rather than trying to dominate every single social channel, consider how you can define your content amplification strategy and grow a social presence that actually results in a positive ROI.
Focus primarily on the social networking sites that speak to your specific audience. Consider not only the "big" social media websites that you're probably already logged on but also the smaller players that reach more targeted users.
Facebook
Mark Zuckerberg's brainchild is the undisputed king of the social network, with well over one billion daily active users. Although the platform was originally conceived as an ad-free venture, Facebook's advertising platform has exploded in recent years. Additionally, more and more private groups have popped up where users are encouraged to do business.
Twitter
Representing a more minimal social channel with its 140-character limit, Twitter represents a prime place for businesses to network and reach out to colleagues and customers alike. With over 350,000 tweets sent out per minute, the platform is as lively as ever.
LinkedIn
The prime social network for professionals and those looking for more of a "suit and tie" vibe, LinkedIn has experienced steady growth over the years. Recently, LinkedIn has become a popular place to reach out to influencers (think: blogging bigwigs, CEOs and VPs). It's also a great place to share content via LinkedIn Groups and LinkedIn's own Pulse platform.
Instagram
Despite popular belief, Instagram is more than just a place to take snapshots of your lunch. In fact, small businesses are ramping up their Instagram ad spending, especially in hopes of reaching more millennials. Given the rapid rise of visual content, Instagram's base of over 400 million users represents unique opportunities for creative businesses.
YouTube
Although many marketers are afraid to get their feet wet with video, the meteoric rise of YouTube represents a glimpse into the future of marketing itself. The numbers don't lie in regard to video marketing, from an insanely positive ROI to creating more leads, tapping into YouTube's base of over one billion users is quickly becoming a must-do for modern marketers.
Pinterest
Leveraging visual marketing to a female-dominated user base, Pinterest drives a ton of traffic that's willing to spend. Representing the newer wave of social networking with a heavier emphasis on imagery versus text-based content, Pinterest is home to a number of micro-niches just waiting to be tapped into.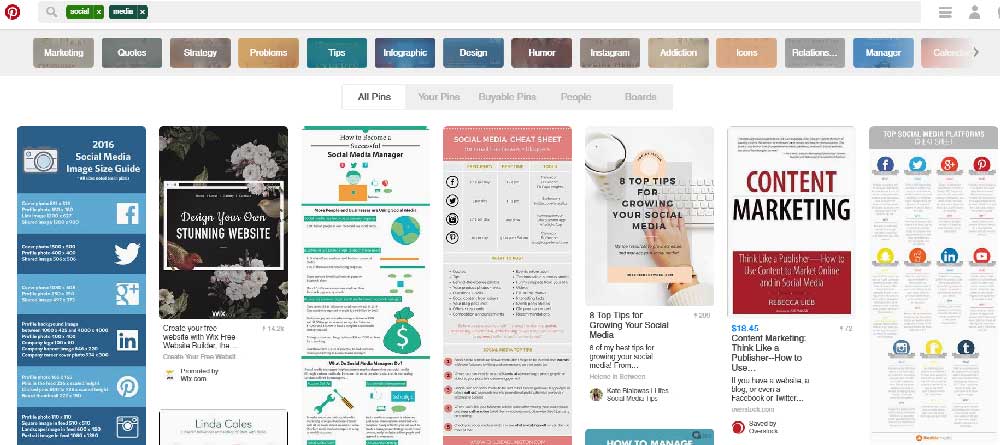 Tumblr
Somewhat of an outlier, Tumblr is a hotbed for user-generated content, with perhaps less focus on B2B and B2C transactions. However, Tumblr's popularity among millennials is impossible to deny, making it a potential goldmine for businesses within the proper niche.
SlideShare
Often overlooked, SlideShare represents the perfect platform for content creators looking to get more mileage out of their written pieces and be perceived as an expert in their space. Approximately 40% of B2B marketers already use SlideShare to distribute content to a base of over 70 million users.
Google+/Google My Business
You'll come across hundreds of articles that talk about how Google+ is dead. And, as far as a tool for engagement goes, we tend to agree. But Google+ and Google My Business are still incredibly important for all business from an SEO standpoint.
But Which Social Networks Are Best for My Business?
So you're staring at nine potential social networking sites but have no idea where to start.
Fear not. Nobody realistically is expected to juggle every single social network at once. Take a step back and consider how much you're willing to put into social media in terms of time, energy and resources. First and foremost, consider the following three questions:
Based on your ideal customer avatar or persona, what social networks do you know for a fact that your potential customers use?
What is the scope of your content? Are you mostly sharing written blogs, infographics or videos?
Are you focused on building B2B or B2C relationships (or perhaps a combination of both)?
Whether you're looking to reach customers, grow your content or simply grow your search presence, use the following set of guidelines as a starting point. Since there is no blanket approach to social media, keeping your goals in mind (think: am I trying to drive traffic, warm leads or find new customers?) will help focus your efforts and save you time in the long-run.
The Best Social Media Sites for Brick and Mortar Businesses
Examples: local bakery, restaurant, gift shop, medical practice.
If your customers are active on social media, it's incredibly likely that they're on Facebook, if nothing else. Businesses with a physical location should consider a Facebook page first and foremost. The benefits of an active Facebook presence include:
An additional channel for users to quickly ask questions without a barrier (such as having to log into their email and write out a message)
The ability to clearly display your location, hours and essential information; in many cases, social profiles can outrank our own sites, meaning that you should clearly have your info up-to-date on Facebook
The ability to engage with your local community and customers directly. For example, restaurants can encourage customers to take selfies with their new sandwich. A local gym could display a client's before/after progress. A gift shop could advertise special sales to the community.
Beyond Facebook, local businesses may also consider secondary social accounts that require less upkeep such as:
Twitter

, to occasionally tweet out local deals and specials
YouTube, to house any commercials or community videos relevant to your business
Instagram, especially for restaurants, to encourage visitors to check in, tag and take pictures
Google My Business, to display your business address, hours, phone number, pictures, and to respond to reviews.
Local businesses can almost think about social media as they would physical shoppers: that is, Facebook offers the most "foot traffic" versus the other social channels. The safest bet is to start there and branch out accordingly.
Brick and Mortar Businesses Using Social Media Effectively
For some inspiration, take a look at the following examples of local brick and mortar businesses using social media sites effectively.
The Best Social Media Sites for Ecommerce Businesses
Examples: Digital clothing retailer, Online decorations store.
Visual marketing represents the bread and butter of ecommerce stores. Therefore, such brands should pursue a combination of the following channels:
Facebook – In addition to using Facebook to engage with customers in conversation and to announce upcoming sales and promotions, ecommerce sites can use Facebook's emphasis on photos and videos to show off new and popular products.
Instagram – The concept of driving business through Instagram may be foreign to most; however, the fashion industry, for example, is seeing huge returns from the photo-sharing platform. Harnessing the power of hashtags and eye-popping examples of your products in action is a great way to get noticed.
Pinterest/Tumblr– From fashion and cooking to DIY and beyond, Pinterest and Tumblr are home to a number of micro-niches. Such sites are about much more than mere pins and reblogs, especially considering that 93% of Pinterest's user-base represents avid online shoppers, for starters.
YouTube – You don't have to have a professional videographer on staff to post content to YouTube. Many ecommerce stores are producing great content on YouTube with little more than a smart phone. From a behind-the-scenes look at your business and daily vlogs to how-to's and DIY projects, consider YouTube as a means of giving customers a window into your company's personality.
Regardless of which channels you choose to focus on, visual pieces such as photos, infographics and videos can act as the cornerstone of your content strategy.
Examples of Ecommerce Companies Using Social Media
Need examples of ecommerce sites using social media to connect with customers? Take a look at how the following ecommerce brands are dominating on social media.
The Best Social Networking Sites for Freelancers and Solo Ventures
Examples: freelance writers, digital marketers, graphic designers.
Freelancers and business owners flying solo are easily daunted by the expectations of social media. They have so many channels to choose from and may be tempted to stretch themselves too thin. If you're going it alone, time management is perhaps your top priority. So, where do you start?
Many freelancers actually do not have a separate Facebook page for their business ventures. Instead, they use their personal profiles to network and market themselves via private groups to discover potential prospects. This makes a lot of sense if you think about it. Do you really expect a large fan following on Facebook for your freelance writing business? In most cases, a personal profile will suffice.
Most freelancers rely on personal websites and portfolios as a means of displaying their skills. However, sites such as Twitter and LinkedIn are fantastic resources for grabbing the interest of potential clients. Twitter can be used to curate both written and visual content, such as recently published articles or a new logo for a client. Similarly, both LinkedIn's Pulse and Medium allow publishers to repurpose blog content to a new audience of professionals in their niche.
The options are essentially endless for freelancers: for example, you could also utilize SlideShare as a means of educating budding freelancers (think: a "how-to" freelance series) or a daily YouTube vlog discussing your trials and tribulations as a solo venture. However, dedicating one's time to so many social platforms can be incredibly draining. Freelancers should focus on the following actions to make the most of their social strategies.
Find potential clients and reach out to them directly (using Facebook groups or LinkedIn connections).
Follow up with clients and leads. (For example, you may send a Tweet to a client or reach out to a lead on LinkedIn following an email.)
Share content to drive traffic to your portfolio (eventually resulting in business coming to

you

 instead of constantly chasing new clients)
Every minute on social media should be spent with a purpose, whether it be warming leads for outreach, prospecting new clients or pushing out your latest post.
Examples of Freelancers Using Social Media
Want to see how some freelancers and solopreneurs are handling social media? Check out these stellar examples:
The Best Social Media Sites for SaaS
Examples: project management software, SEO software.
For most SaaS (software as a service) companies, social media is a game of "show, don't tell." The most effective way to harness the power of social media is by showing your potential customers the ins and outs of your software. Additionally, a smart social presence can help software companies stay connected to new and past customers alike.
Twitter represents the hub of SaaS looking to put themselves out there with a steady stream of content and applications of their product. Many SaaS companies use Twitter to address user concerns, answer questions, and tweet to powerful players in their space.
When it comes to choosing software, customers want to see it in action. Social media can help users get truly excited about your product. YouTube videos and SlideShare tutorials, for example, not only ease users into your software, but also help build your business' perception as a source of education.
SaaS companies, and others who produce a lot of content on a company blog, should make a habit of sharing new blog posts to Google+. This is one of the best ways to ensure that Google's search engine notices your new blog content. Just create a Google+ post saying something like "Interesting new blog about [the subject of your blog post]."
Producing a combination of visual and educational content, curated through social media, allows your business to reap the benefits of being an authoritative influencer. Even if you find yourself in a seemingly "boring" niche, think about the opportunities your product has to solve your customers' pain points. Craft a marketing message that looks to simplify the problems of others. Then use social sites to amplify your ability to address those concerns.
Software Companies Using Social Media
Examples of SaaS companies crushing it on social media:
Finally, How to Actually Use Social Media for Business
Each social channel presents distinct opportunities to just about any type of business. Ultimately, how you decide to use each channel is based on your respective audience and niche. While Pinterest is probably not a good use of time for a freelance tech writer, a freelance mommy blogger may score most of her clients through the platform. If you're looking for the "right" way to go about your social strategy, keep your audience in mind. Think about why you're spending time on such sites in the first place.
Remember: time is money.
The time that you're spending on social media is ultimately time you're spending away from other aspects of your business, whether it be working on a product or collaborating with your team.
This raises the question: how long should I spend on social media?
Yet again, there is no proper way to go about it. Some may carve out a specific chunk of their day to perform social outreach or blast updates; meanwhile, others spread out their social updates throughout the day.
You may want to consider the following strategies to help keep time-wasting to a minimum:
Set a goal in terms of

what

you want to

accomplish each time you log into a social profile. For example, you may want to retweet an influencer, post a piece of content and reblog a colleague 3x per day on Twitter.
Use a time management strategy (such as the Pomodoro or "tomato timer" technique) to set aside a specific amount of time, such as five minutes between breaks in your day, to swiftly sift through your social profiles and avoid getting bogged down.
Create a content calendar through platforms such as CoSchedule, Buffer, or Hootsuite to automate some of your efforts, affording you time to organically use your social profiles to reach out to others.
If you feel like you're wasting your time, you probably are. By setting aside specific goals and managing your time wisely, you cut down on chances to slack off.
Overthinking social media is incredibly easy to do. We're constantly bombarded with the notion that we need to market like mad and pour hours per day into various sites if we ever hope to make it. Forget about trying to dominate every social channel at once, and instead try a simpler, more refined strategy. Simply keep your audience in mind and consider how the scopes of each of the various social sites can work for you and help grow your business' online presence.