It's almost 2016 and it seems every business on the planet has had a go at content marketing, but only a handful of them get it right.
Recent statistics show that in North America alone, about 88% of B2B marketers use content; and this number keeps growing.
However, in a study by Content Marketing Institute, only 9% of B2B marketers considered their content marketing efforts to be "very effective."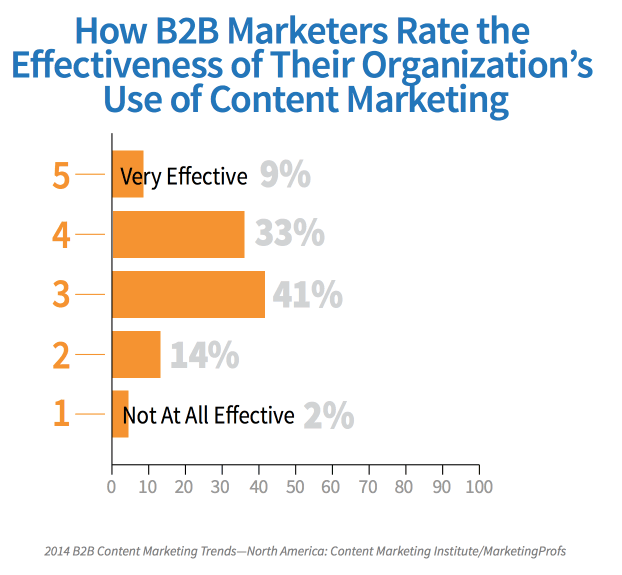 So, does this mean content marketing is a bad investment?
Emphatically no!
Content marketing can be a fun way to generate leads for your offering, build brand awareness, engage your customers, and generally grow your business.
As a matter of fact, website conversion rate is nearly 6 times higher for content marketing adopters than non-adopters.
Content marketing isn't just about traffic. It can also increase conversion rates 6x higher!
Click To Tweet
While content marketing holds scads of benefits, it takes effort for it to produce effective results. Great content marketing results require appropriate and consistent implementation of the right strategies and ideas.
Conversely, if you're getting little or no result, chances are  you're doing something wrong.
But, no worries.
In this article, I'll show you the early warning signs that you may be on the wrong track, and most importantly, some fixes to change the course of your content marketing and online growt h in general.
Ready to find out if your content marketing is a beauty or a beast?
Let's get going:
Warning Sign #1: Your Results Lag the Competition
Hard to admit, but the CMI study above gives us a clue that a lot of people aren't getting results with their use of content marketing.
If a school kid isn't getting her scores, that's a clear sign something is wrong.
No, you're not a high school kid, but if you've been doing content marketing for a while now and yet, you cannot boast of any tangible result, then that's a sure sign you're off base.
What does it mean to get no results?
Admittedly, there could be many sides to it.
For example, at one end, it could mean no sales even though you have a reasonable offer. At another end, it could mean very little traffic or even low search rankings.
Can I Rank's Online Marketing Performance Report gives you a quick way to assess how your content marketing results compare to your competitors:
On the other hand, great results could mean high traffic and a good number of leads generated.
Here's another screenshot showing the sort of results that we might hope to see:
Overall, here are the top criteria most businesses use to measure their content marketing success:
So, how do you get yourself to move from zero to hero?
Here's what to do:
What To Do:
In synopsis, you either need to change something, or improve on something, or do both.
Whatever it is you have to do, you'll need to start by doing a sort of analysis on your content marketing strategy.
Are you serving the right content to your audience?
Are you even targeting the right audience in the first place?
Do you have a clear goal in mind? Or, you're just doing content marketing because the guys over at HubSpot are doing it?
Do you have a viable documented content strategy?
You'd be surprised at how little the number of marketers with a documented content strategy is, even though documented strategy can help a business double its content marketing results.
After you've done a proper dissection on your content marketing, you can go a step further to compare with the competition who are also trying to rank for the same keywords as you.
Doing so will give you an idea of what they may be doing right that you're not doing and how you can improve.
CanIRank's Marketing Performance tool comes in here handy.
The tool basically shows you your website's online marketing performance scores, along with the top sites that are eyeing the same keywords as you.
In addition to some recommendations on how to improve, the tool presents you some information on stats like Content, Authority, SEO and Social of both your site and the competitors' sites.
Here's a screenshot example of results we got for the "SEO" keyword:
Warning Sign #2. Your traffic sucks
I do not mean to be spiteful, but, if your traffic stats is a total of the number of your few employees and family members summed together, it probably means that's just the kind of traffic you're getting—just your employees, your mom, and your cat.
It goes without saying, that's a sign something isn't going right with your content marketing.
Here's why traffic matters, and why it can be used as a measure of how successful your content marketing campaign is:
The quality and quantity of content you publish directly influences (and can be seen in) the quality and quantity of the traffic you get.
Great traffic means your content kicks ass. Poor traffic means, uuuuh noo!, you're all wet. No question about it.
But, here's how to handle that:
What To Do:
Poor traffic can be as a result of not promoting your content.
It's the 21st century and gone are the days when "gurus" used to yell at us, "if you build it, they will come."
The rule is simple:
If you want to deep-six your content marketing then do nothing after you've created your content. If you want rich traffic and other winnings, then proactively (and I mean proactively) promote your content.
One post on FB is not enough. A single tweet is now almost a waste of time. And one email a month is not going to get you anywhere aloft.
You need to break in. You need to turn heads. And most importantly, you need to impress the heck out of the big G until it is left with no choice but to rank your content high.
Don't know how?
The easiest way to promote your content is to find people who are interested in the information you have to share, and then figure out how to connect with them.
You can easily do this using the Promote my Content tool.
Promote my Content will help you find pages where you can promote your content.
For example, in order to promote CanIRank's blog post on best practice for small business blog SEO, we used the Promote my Content tool to find forums, Q&A sites, and blogs where people were asking for advice on small business blog SEO.
Each link opportunity uncovered by the tool is automatically scored according to Relevancy and Authority, so you can focus your efforts on the ones that are most likely to earn you the kind of links Google loves: dofollow links from highly relevant, authoritative pages.
The tool also scores according to Actionability. An actionable page is one where you have a pretty good tendency of bringing home a good quality link, building relationships with influencers, or taking some other action which can ultimately grow traffic to your page.
The PmC tool can also help you find journalists or bloggers who have written on similar topics in the past, identify sites linking to similar content who may want to reference your content as well, and find the most recently published pages on a topic, so you can jump right into the conversation.
Here's a quick video tutorial to help you make the best use of this tool.
Effective promotion takes work, but it's time well spent if your content marketing goal is to attract traffic.
A good rule of thumb to maximize your ROI is to spend twice as much time promoting each of your posts as you did when writing them.
Derek Halpern of Social Triggers even recommends following what he calls "the 80/20 Rule" of building an audience where he said…
"…create content 20% of your time. Spend the other 80% of the time promoting the content."
Great idea, but if you're going to follow Derek's rule, first understand that content marketing starts with the creation of awesome content that educates and helps your audience.
It's the foundation.
And without setting this foundation right first, there's no sense in investing in further effort.
Warning Sign #3. Your conversion rates are low
As important as promoting your content is, all your efforts will come to nothing if you don't know what to do with the traffic when they finally come.
To get things straight, you must have a system for converting visitors into paying customers.
What causes low conversion?
Well, show me a site with low conversion rates and I'll show you a business with a poor content marketing strategy.
Here are some things that usually define such a poor strategy:
You don't have a well-defined conversion funnel
You're targeting the wrong audience. Or, your target audience is too broad or too narrow
You're asking for too much
You're not using a persuasive language in your content
Your offering is not of any value to your target audience
There's no clear call-to-action.
What To Do:
There are a whole lot of things you can do to maximize the ROI of your content marketing, but here are a few effective ones:
Set up a proper conversion funnel that can turn leads into paying customers.
Content that's going to drive conversions has to target the right demographic of visitors that are actually likely to convert.
Include clear calls-to-action on every page of your website and blog posts. This gives users the opportunity to click on the CTAs no matter what page they are on your website.
Balance a great content with an enticing lead magnet.
Optimize your conversion elements through effective testing.
Warning Sign #4. Nobody shares, likes or tweets your stuff
The social space today is filled with vibrant, fanatical users who are willing to share your content as long as it is useful.
Not getting at least a handful of these fanatics share your content is a sign you're probably pressing the wrong content marketing buttons.
Why?
Because social shares show that there are people who are interested in and benefiting from your content, and that you're at least doing something right.
But, if that's not the case, keep calm. I've got you covered.
What To Do:
First off, kick start things by sharing the content yourself. Also, if you have an in-house team, encourage them to share.
Not once. Not twice. But several times, across different time zones. This is to enable different people to see the content at different times.
Then, go ahead and encourage your readers to share.
You can do this by including a quick note at the end of your blog articles, telling them to share.
And to make it really easy, include sharing buttons on every post.
Also, ensure that your content is shareable. Content that hit readers' nerves and makes them want to get up and act now is likely to get more shares.
Make sure you have a strong content amplification strategy in place to define the process of how to get your content in front of the right people.
BuzzSumo and Canva carried out a study where they found that using images once every 75-100 words can attract about 30 to 100 more social shares depending on the number of images you used in your content. (To get started with beautiful, free images on your website, check out our curated list of 21 free image sites and tools.)
Additionally, Neil Patel noted that blog posts that are north of 2000 words get higher spots on Google and MORE SHARES than posts with less than 2000 words.
Social contests or giveaways work well too for getting high social shares, where you offer your readers freebies for sharing, liking, or tweeting your content.
Need a tool to smarten it up?
How about having a crack at the Grow my Followers tool?
Using data intelligence, the tool makes recommendations on ways to strengthen your social media presence and grow your following. It shows action steps you can complete every day for improved social results.
Grow my Followers can also show you a list of the most shared content on your site—a great way to discover what types of content your audience like most, so you can create more of such content.
For instance, over here at CanIRank, we did a quick check on our social stats using the GmF tool.
We found that our readers mostly shared our article on keyword domains, a content marketing guides list, our how to outrank Amazon post and our post on influencer outreach.
Warning Sign #5. Nobody leaves any comments on your blog
Imagine creating what you think is an epic content, only to be handed zero feedback.
That's a bummer, right?
Just like social shares, zero feedback simply means nobody is interested in your content—a sign that you're headed for the rocks with your content marketing.
A big warning sign your content marketing efforts are off track? No comments! See the other 5 here: 1) ...
Click To Tweet
If your content marketing is on track, not only should you see tangible results, but readers should also be giving you feedback, respond to your write-ups and talk about you in terms of commenting on your blog posts & social content, and responding to your marketing emails.
If you're not getting any of those, here's what to do:
What To Do:
You can start by encouraging people to comment or give you feedback.
But your content has to resonate with readers. You have to write on topics that interests and touches them, and leave them with no other option but to talk about it.
That's how to get genuine comments and feedback.
However, when using comments as a measure of your content marketing success, keep in mind that the comments may not necessarily come in after just a few posts on your blog. Even though you might be seeing other forms of results.
But as you keep at it with the right strategy, people will start talking about you.
Warning Sign #6. You've never showed up on Google's top 10
Except when the search-term is exactly your name.
You see, Google loves great content. If your content is great, it should show up on Google's top 10, otherwise, it is not—and that passes for a warning sign.
So, how much is a top ranking worth to your business?
A lot.
And if you know that it's a lot, then you should be motivated to do something about it.  You might also want to check out our post on SEO for Startups, as it applies to small businesses or anyone just getting started on their SEO and Content Marketing plans.
What To Do:
If your site isn't ranking well, chances are, you haven't done your homework on the keyword front.
So, the first place to start is to do your keyword research and make sure you pick your battles appropriately. If none of your posts are making it into the top 10, chances are you have a tendency to write on topics that are just too competitive, most likely because every other blog in your niche has already written on the same topic.
Instead, you need to find a way to strike out on the road less traveled, and find keywords where Google is happy to put your content on top. Organize that content into SEO silos so that search engines get a better understanding of your website and its authority.
CanIRank's Grow my Content tool is the most accurate keyword difficulty tool, and an easy way for you to discover which keyword topics offer the best potential specifically for your website. Finding what you can rank above your competitors for is the best way to steal traffic. Your objective is to find keywords that offer the best balance between traffic potential (lots of people search this keyword), commercial relevance (those searchers are likely to become buyers), and ranking difficulty (it's not too competitive for your website).
CanIRank's software generates hundreds of keyword suggestions based upon the terms driving the most traffic to your competitors, semantically related terms, and terms the search engines consider related, and then scores each of them according to the above factors to narrow down the results to only those terms which offer the most potential specifically for your website.
This is a much more effective strategy than using free keyword tools like Google's Keyword Planner that just generate the same keyword ideas for every website, which, quite unsurprisingly, leads to everyone in your niche chasing after the exact same keywords.
In SEO there can be only 1 winner!  The fewer people you're competing against, the better the odds that winner turns out to be you.
In SEO there can be only 1 winner! The fewer people you're competing against, the better the odds it will be you.
Click To Tweet
After you've found the keywords your target readers are searching for, you can go ahead and plug them into CanIRank for customized recommendations on how to outrank the competition.
It's also advisable to track the results of your SEO strategies for better understanding of where you are and what you can do to move to where you want to go to.
You can do this using the CanIRank's Improve my Rankings tool. This tool shows you:
Some of the keywords your website currently ranks for
An estimate of the number of times each month users search your target keyword on Google
And how much money you're saving each month by getting those clicks via SEO rather than paid ads.
Other than poor keyword optimization, excessive duplicate content is another cause of poor rankings. If there's any on your site, fix it. You want to find that balance between a site rich in thematic content, without duplicating any of it.
After that, you can turn your attention to links from non-credible sources and remove those.
Another factor to consider is your social power.
Some experts think Google takes social signals into account when ranking sites, so you might want to do something about that, following the fixes outlined in the "What to Do" section of warning sign #4 above.
 
And to Wrap up…
Sometimes, it helps to know that you are headed for a dead end because this gives you the opportunity to redefine and spruce up your goals and direction.
Moreover, sometimes it is just that you need to rework your strategy and not necessarily change your whole game plan altogether.
Keep these warning signs on check and if you ever catch a sight of any of them in your content marketing push, implement the tips in the "WHAT TO DO" sections of the article.
Ever noticed a warning sign in your content marketing drive? What did you do about it? Share your thoughts with us in the comment section below.
Also, help your friends learn the same things as you just did by taking a few moments to share this article with them via the social share buttons.