In this case study we'll demonstrate a perfect example of SEO done right. We'll share how a leading ecommerce seo company, CanIRank Full Service helped a brand new ecommerce store go from launch to over $1 million in sales using free organic SEO traffic. Bavarian Clockworks is a niche retailer built on the excellent BigCommerce platform that sells authentic handcrafted cuckoo clocks imported from the Black Forest region of Germany. The ecommerce company offers a wide range of clock styles made by some of Germany's top craftsmen, including modern cuckoo clocks, vintage clocks, and Hones cuckoo clocks.
Bavarian Clockworks takes pride in providing customers with one-of-a-kind products and individual attention. As a small business, the personal relationships it develops with shoppers is something that distinguishes it from larger companies. However, in the highly competitive world of ecommerce SEO where Amazon dominates nearly every keyword, happy customers don't always translate to high search engine rankings.
Bavarian Clockworks began to search for an ecommerce seo agency to help them compete with the giants in their niche. They came to us looking for help growing sales by boosting their Google rankings for bottom of funnel product keywords. At the time, they had a brand new website with little informational content beyond a product catalog, almost no backlinks, and zero organic traffic. We knew we had our work cut out for us!
When we started working together, nearly all of Bavarian's sales derived from traffic purchased via Google Adwords. While paid search ads do deliver immediate traffic, they can also become a bit of an unhealthy addiction for new ecommerce companies. With most buyer-intent keywords costing several dollars per click, it's extremely difficult for ecommerce stores to profitably grow on AdWords traffic alone. Bavarian's objective was to replace their costly PPC traffic with free organic search traffic in order to build a more profitable business over the long term.
Competition was stiff. Goliaths such as Amazon and Walmart, as well as smaller entrenched industry players that had been around for decades dominated nearly every product query. Would Bavarian Clockworks be able to claim top rankings in such a crowded and mature market?
"Most SEO agencies tell you what you want to hear. CanIRank told us what we needed to hear. They have been a key partner that has consistently delivered on promises over the long run, helping us achieve an excellent ROI."
Bob Ellis
Owner
Bavarian Clockworks
If you want your SEO done right for a new ecommerce website, the most important first step is building brand authority to increase the website's importance in the eyes of search engines and potential customers. In an esoteric niche like cuckoo clocks, quickly earning hundreds of high quality links is not easy.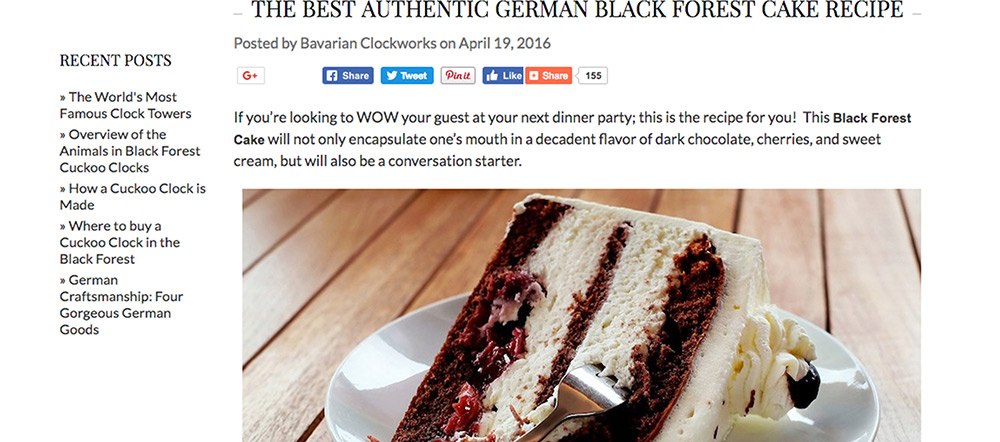 CanIRank's outreach specialist Henry Butler addressed this by creating promotable High Value Content in a number of tangential niches, including travel, German culture, and craftsmanship. However, quality content alone isn't enough. With no built-in audience, new sites also need to heavily promote their new content in order to jumpstart initial readership. To accomplish this, CanIRank's team defined a content amplification process for each target audience. Henry also found targeted PR opportunities with the help of CanIRank's Promote My Content tool. Dozens of pitches landed backlinks via guest posts, blogger reviews, roundups, and interview features.

To build the site's Website Relevancy, content strategist Louisa Atto researched new content ideas using CanIRank's Grow My Content tool. She crafted evergreen content focused on cuckoo clock reference topics including repair, construction, and the origin of cuckoo clocks. In the short term, this Supporting Content provided fodder for content promotion campaigns and drove top of funnel traffic by ranking for less competitive long tail keywords. In the long term, it served to establish Bavarian Clockworks as the leading topic expert in its niche.
Finally, technical SEO specialist Patrick Endres bolstered the product and category pages to maximize on-page optimization utilizing CanIRank's Improve My Rankings tool. He improved page loading speed and enabled search-engine friendly features such as structured data schema for product reviews and pricing rich snippets. Patrick also created a content map with proper internal linking to ensure the website's information architecture was well-organized and easy to navigate for both users and search engines.
"With SEO, you want to have the very best minds by your side to help guide you. You need the right advisor. One that has the tools, resources, and talent to get the job done. For me, that has always been CanIRank."
Bob Ellis
Owner
Bavarian Clockworks
Bavarian Clockworks steadily worked its way up the Google results, first capturing rankings for long tail terms like "cuckoo clock history", and then working its way from unranked to #2 on Google.com for "cuckoo clocks" and nearly all other key product terms. The startup ecommerce website from Chicago now routinely outranks ecommerce giants such as Amazon, Ebay, and Wayfair, as well as almost all niche competitors.
Hundreds of links were built organically, including press mentions on sites such as:

CanIRank's efforts have directly contributed to over $150,000 per year in new revenue for Bavarian Clockworks, a number that continues to grow. Perhaps most importantly, their organic traffic has replaced over $23,000 a month of PPC traffic, earning back the costs of their SEO campaign many times over. In total, over 3,600 new Google keyword rankings have been added.

Organic search traffic has increased 11,588% compared to the start of the campaign, going from 103 visitors per month to 11,894. A perfect example of SEO done right.
Bavarian Clockworks recently reached a critical phase in its business life cycle: it could no longer keep up with demand. The increase in customer inquiries and order fulfillment were too much for its team to handle. A good problem to have, indeed! The company recently hired two new full-time employees to help handle its expansion.
Before and after competitor analysis reports from CanIRank paint a picture of how much progress has been achieved. The website improved dramatically in every ranking factor area.
Before
After


Win-Win Partnership
SEO is a high stakes game for e-commerce companies. Climb to the top of rankings, and experience a rise in sales as the value of your business soars. Fail and rely on paid advertising to keep afloat – or even worse, never get enough momentum to get your business off the ground.
"With CanIRank's help, we were able to grow from initial business concept to seven figures in sales in less than 3 years, with no outside funding."

Bob Ellis
Owner
Bavarian Clockworks
In the time we have worked with Bavarian Clockworks, the company has gone from an early-stage idea to a rapidly expanding business with increasing market share. The results we achieved demonstrate that SEO is an essential long-term investment for eCommerce stores. Our team was able to execute a balanced inbound marketing plan that included on and off-page tactics despite an extremely tight budget.
Learn more about the marketing strategies we utilized in our 27-page guide to Ecommerce SEO, or schedule a free strategy consultation to see how we can help your e-commerce business thrive in a crowded online marketplace.