The value of your iPhone is the same whether you paid $300 for it or $1,000. Shopping for commodity products teaches us to look for the lowest possible price (hopefully a HUGE discount from the "normal" price!).
But the value, and even the definition, of SEO, varies widely. A spammer who clicks one button to auto-generate thousands of junk links, and a team of experts who completely overhaul your website, triple your conversion rates, and land you press coverage in the New York Times may both describe their product as "SEO", but they're obviously not the same thing.
So in order to answer the question "how much does SEO cost?", we need to look not only at the relative costs of SEO services in all their myriad forms but also which of those services will best meet the needs of your business.
Ultimately our goal is to maximize ROI rather than minimize cost, and ROI is determined more by what gets done than it is by how much you paid for it. In other words, it's better to get a bad deal on the right thing than a good deal on something that won't help your website no matter how little you paid for it.
How much is the average cost of SEO services?
There are 5 broad categories of SEO service. From least to most expensive pricing:

Of course, we'll also analyze CanIRank Full Service, a hybrid of a full-service agency and DIY SEO Software that combines some of the best features of both.
For each alternative, we'll look not only at pricing, but also how much of your time the solution requires, the risk of incurring a search engine penalty, and the typical results.
| | Monthly Cost | Hourly Cost | Time |    Risk    | Results | Best For |
| --- | --- | --- | --- | --- | --- | --- |
| DIY / SEO Software | $50 – 200 | | | | | People with more time than money |
| Freelancers | $300 – $1K | $20 – $75 | | | | People who know exactly what they want and don't mind managing |
| Offshore Agency | $500 – $1.5K | $15 – $40 | | | – | Suckers |
| In-House | $8K – $100K | $40 – $60 | | | | Big budgets who want to maintain control |
| High Quality Agency | $5K – $50K | $100 – $300 | | | | Big budgets who don't want to bother |
| CanIRank Full Service | $1.5K – $5K | $40 – $70 | | – | | Ecommerce, SaaS, Startups, SMEs looking to maximize ROI |
DIY / SEO Software Cost
How much does SEO Software cost?
With prices ranging from around $50 to $300 / month, DIY SEO Software may be the only legitimate option for extremely tight budgets. Fortunately, it can also be an effective option as long as you have the right skill set and are willing to put in the time. DIY SEO Software is one of the cheaper options for SEO pricing.
What does DIY SEO Software include?
Most SEO software is designed to provide SEO professionals with the data they need to track the results of their work. However, the Do It Yourself (DIY) segment of SEO software is targeted primarily at end-users rather than consultants and agencies. It focuses on providing specific actionable steps that you can take to improve your website SEO.
In the case of CanIRank, these recommendations are customized to address your website's biggest weaknesses and include content topics likely to drive the most traffic, optimization tweaks to improve your existing rankings, and link prospects relevant to your industry. Each recommendation is accompanied by detailed instructions and tips sourced from our Full-Service team who do this stuff all day long.
Pros of SEO Software
DIY SEO Software is unlikely to lead to search engine penalties as long as you use a reputable provider, and since you're doing all the work, you know that nothing shady is going on. It can be a great way to develop your online marketing skills. Lastly but perhaps most importantly, no one knows your business and your customers as well as you do, so you have a distinct advantage in many SEO activities such as content production and outreach.
Cons of SEO Software
SEO is not a quick fix or a one-time thing, so if you want to achieve results with DIY SEO software, you will need to set aside at least a few hours a week for several months.
In SEO, execution matters. To rank highly, you need to be better than other SEO professionals including agencies and consultants who have been doing this stuff all day long for years. In competitive industries, it's unlikely that DIY alone will suffice to get you ranking for the most valuable keywords, but it should at least give you a shot at growing your traffic to the point that you can afford to hire additional help.
Freelancer / SEO Consultant Cost
How much does a Freelancer / SEO Consultant cost?
Independent SEO consultants usually offer more affordable pricing options than an agency in the sense that their lack of overhead means that they're willing to take on much smaller projects. The average hourly rate for an SEO Consultant in 2017 is $136 according to a 2017 survey by Credo, $126 according to a 2016 HubSpot survey, and $117 according to a 2012 Moz survey. Monthly packages from SEO freelancers typically cost around $500-$2500, so you can do the math and see that you're getting a relatively small number of hours, around 4 to 20 hours per month.
What services do SEO consultants typically do?
Due to the limited number of hours, most SEO consultants specialize in audits, strategy, or "advice-only" engagements rather than implementation and execution. Most SEO consultants specialize in 1 or 2 areas of SEO, like technical SEO, content strategy, local SEO, eCommerce SEO, or keyword research.
Pros of a Freelancer / SEO Consultant
SEO freelancers can enable you to get a little help and advice from quality SEOs without the high monthly commitment of an SEO agency. If you have most components of a good growth marketing program covered in-house, hiring a specialized SEO consultant or two can be a great way to fill in any knowledge gaps or get help with tricky issues.
Cons 

of a Freelancer / SEO Consultant
Although some SEO consultants claim they can do everything, realistically it takes a very different skill set and personality type to execute well on various aspects of SEO. A good technical SEO specialist and a good PR & Outreach specialist are going to look very different. An SEO consultant who claims they can do everything well is actually just revealing that they don't understand the full range of skills required. Also, freelancers usually need more hands-on involvement and management from your part than a full-service SEO agency.

Offshore / Low Budget SEO Agency Cost

How much do cheap SEO agencies cost?
There are a number of large, high-volume SEO agencies who target small and medium-sized businesses who's cost for SEO services range between $500 to $1,500 per month. These include many of the big names you've probably heard of, and who frequently appear on "top SEO" lists (which are 100% paid rather than editorial endorsements, by the way).
What services do cheap SEO agencies typically include?
The typical low budget SEO agency includes a US-based account manager working on 20-100+ accounts, with all of the actual implementation work handled by offshore teams in India or the Philippines. Since skill levels are low, market familiarity is nonexistent, language abilities are limited, and is no communication takes place between you and the team actually doing the work, the tasks completed typically include extremely low value but easy to execute tasks such as updating meta tags, pitching guest posts, making blog comments, submitting to directories, utilizing spam software to do "article marketing" and social bookmarking, or using networks of fake websites set up for the purpose of building links (called Private Blog Networks or PBNs).
Pros of an Offshore / Low Budget SEO Agency
I'd like to say that low cost is a Pro, but given how many times we've inherited clients from these big-name mass-market SEO providers and had to spend months repairing the damage they've done, it's clear that most would be better off doing nothing. Can you call something low cost if the value is negative?
Cons 

of an Offshore / Low Budget SEO Agency
Where to begin? First, the upside is extremely limited as these tactics haven't been effective since 2012 or so. Any gains they show you (eg, in case studies) are in spite of the work done, rather than because of that work (ask to see an aggregate of average results achieved instead). Conversion rates frequently decline as your website and blog gets filled with crappy content with poor grammar and no understanding of your business.
Perhaps worst of all, there is a genuine risk that these tactics will lead to search engine penalties or demotions, especially under Google's Panda (site quality) and Penguin (over-optimization) algorithms. Low-quality links are the #1 cause of penalties, and while they may lead to gains in the short term, Google always catches up to spam tactics such as auto-generated links or PBNs, and when they do it can take many months or even years to recover from the ensuing penalties.

In-house SEO Team Costs

How much does an in-house SEO team cost?
According to GlassDoor, the average salary for an in-house SEO in the US is $62,380. Indeed.com reports a similar average salary of $62,796. Of course, an effective SEO & inbound marketing team typically requires multiple team members, including an Analyst ($69,759), Public Relations ($52,103), Content Writer ($44,449), Link Builder ($33,372), and at least some time from a Developer ($87,661) and Designer ($59,989). Ideally, the team is coordinated by an experienced Director of SEO ($96,085) or VP Marketing ($179,268).
Of course, salary is only a portion of the cost of your in-house SEO team's pricing. You'll also need to account for less obvious SEO costs such as taxes, office space, benefits, recruiting, training, vacation, software, equipment, management, and overhead time. A good rule of thumb is to double the salary to get your true fully-loaded labor cost, giving you a pricing range of about $8K / month for a single entry-level marketing generalist, about $50K / month for a minimally viable 3-4 person SEO team, and hundreds of thousands for the large and experienced teams utilized by big players.
What does an in-house SEO team typically do?
The capabilities of your in-house SEO team will vary greatly based on who you hire. I frequently hear prospects question our costs with comments along the lines of "well, we operate in a low-cost area so we can hire a good marketer here for $15-20 / hr." Even in low-cost areas, those rates will only buy you an inexperienced entry-level marketer or intern. If you're lucky, they'll be good at one or two areas (say, content and social media), but certainly won't be familiar with the full range of skills necessary for effective inbound marketing. Also, once you add in all of the associated costs (inexperienced people need a lot of management time and training), you quickly realize you're paying as much for your inexperienced in-house team member as you would be for an inexperienced consultant.
Anyone who would expect a one-person SEO team to achieve good results probably doesn't understand the range of skills required for effective modern SEO. In-house teams start to become viable when they include multiple team members to cover the disparate skills needed. A typical "minimum viable team" consists of an excellent copywriter who's also trained in optimization, a PR / promotion specialist who can earn links and press coverage, a content strategist who can recruit and manage a team of bloggers, and a technical person who can make changes to the website and fix technical SEO issues.
Pros of an In-House SEO Team
Assuming you've covered the range of skills required and have an effective manager to set the strategy and coordinate it all, an in-house SEO team should be able to achieve excellent results. Since the team works only on your business, they become intensely familiar with the website, your products, and customers. They can build and nurture long-lasting relationships with bloggers, journalists, and other influencers.
Perhaps most importantly, in-house SEO teams know how to get stuff done in your organization. No agency team will ever match their understanding of your internal politics, roles, and priorities. Since SEO often is a cross-functional role, those internal relationships and allies throughout the organization can be essential to getting things done.
Cons 

of an In-House SEO Team
Since an in-house SEO team only works on one website at a time, they lack the perspective that an agency team gains by being able to observe what works across dozens of different client websites. When algorithms change, or new techniques or technologies emerge, agency teams are usually the first to understand what is going on and know how best to take advantage of it.
Because agencies have been through it all before with multiple clients, they're typically able to develop much better-defined processes, whereas an in-house team is generally seeing each new challenge for the first time, essentially making it up as they go along.
In-house SEO teams require time to build up, train and integrate with your organization. It may be years before your in-house team is functioning like the well-oiled machine they need to be in order to compete with the best, whereas you can have an entire agency team working for you in a week or so.

High Quality SEO Agency

How much does a high-quality SEO agency cost?
Reputable SEO agencies typically charge somewhere between $5K and $50K monthly. A 2016 HubSpot survey (which included low quality as well as high-quality agencies) found that 28% of SEO agencies charged between $2500 and $5000 monthly, while 31% charged monthly retainers between $5K and $20K, and 3% above $20K. A 2016 Moz survey found 27% of agencies charge between $2500 and $5000 per month, 21% charge from $5K to $10K, a little over 5% charge from $10K to $25K, and 5% charge from $25K to $50K. Credo reported an average minimum monthly retainer for SEO agencies of $2714 and an average hourly rate of $203. Both Moz and HubSpot found hourly rates charged by SEO agencies most frequently fell between $100 and $200.What services do high-quality SEO agencies typically do?
What does a high-quality SEO agency typically do?
The best SEO agencies can assist with everything required to get great results from SEO, which ranges from very specialized technical skills (eg, debugging crawl issues) to soft people skills (eg, relationship building with influencers). In addition, many high-quality SEO agencies are full-service digital marketing agencies who can also help you with website development and/or management of paid ad campaigns. You should be able to look at an agencies team and see that range of skills reflected in the team members' experience and profiles, rather than just a bunch of people described as "SEO Specialist" or a team that's too small to include specialists in all of the necessary areas.
Before signing on with an agency, be sure to ask who will actually be doing the work. Many agencies use their most experienced team members in the pitch phase, then move you to junior team members once you sign. In addition, a surprising number of well-known high-end agencies outsource much of the work to lower-cost providers (sometimes on a white-label basis). We should know — we're one of the teams they outsource to, typically adding a 50-100% markup on our rates. This is not necessarily a bad thing as long as they outsource to a quality provider, and it may be worth the markup to you to have a contact you're familiar with or located in your hometown. 
Pros of a High-Quality SEO Agency
Assuming you pick a good one, high-quality SEO agencies should be able to achieve excellent results. Collectively, their teams have helped hundreds of different websites and seen nearly every issue or scenario, giving them a perspective that no individual consultant or in-house team can match. They're typically held to a higher standard of ROI accountability than in-house teams, so they've developed and refined processes to achieve and communicate results to clients in the most efficient manner possible. Agency leaders typically include some of the best SEOs on the planet, since it's more profitable for them to spread their knowledge across multiple clients rather than work in-house on a single website.
Cons 

of a High-Quality SEO Agency
It can be difficult to know whether you're dealing with a high-quality SEO agency or merely a crappy agency that charges a lot. Many of the best-known SEOs and SEO agencies have become the best-known SEOs and SEO agencies because they spend a lot of time and money on self-promotion, not because they're capable of achieving the best results. There is little correlation between speaking at a lot of conferences or appearing frequently in the media, and the ability to generate results with a client SEO campaign. Moreover, the cost of all that time and money spent on self-promotion must be folded into hourly rates.
Many high-quality SEO agencies demand a long minimum commitment, a high minimum monthly retainer, and/ or a very high hourly rate." to "Many high-quality SEO agencies demand a long minimum commitment, a high minimum monthly retainer, and/ or a pricing structure with a very high hourly rate.

"CanIRank is a gem of a product. There is simply no better way to spend your money as a startup if you want to crush it on SEO."
Yves Frinault
CEO
Fieldwire
CanIRank Full Service
What does CanIRank Full Service cost?
CanIRank Full Service offers two different pricing models: full-service subscriptions include a set number of hours every month ranging from 22 hours for $1500 up to 250 hours for $10K. Consultant hourly rates for Full-Service subscriptions range from $40 to $68 / hr, making us about ⅓ the cost of a traditional SEO agency. Higher rates apply for Senior Consultants (3-10 years experience plus specialized skills such as technical) and Directors (10+ years experience building and managing multi-million dollar campaigns), but still remain well below rates for comparable experience at other agencies.
If $1500 is out of your budget range and you'd like to do most of the work in-house, bringing in expert help only when you need it, then our Pay-as-you-go Hours Blocks may be the best option. Hours Blocks are a project-based SEO pricing arrangement, where you make a one-time purchase ranging from 28 hrs for $2K up to 170 hrs for $8K. Hours never expire and there is no minimum spend so you can use them over the course of a few months or a few years, according to how much help you need. Hours Blocks are a great hybrid between DIY SEO Software and full-service SEO agencies since you can still get an overall strategy, coaching, and access to a full range of specialists for the really tricky tasks, but there's no minimum commitment and no monthly retainer.
What services does CanIRank Full Service provide?
As implied by the name, CanIRank Full Service includes the full array of services necessary for successful growth marketing campaigns. We have specialists in technical SEO, optimization, eCommerce SEO, analytics, conversion rate optimization, social media, PR & outreach, content strategy, authority building, design, copywriting, link building, and branding.
Depending on the subscription you choose, we assign 2-6 specialists to your client team, allowing us to coordinate across multiple content-centric channels: eg, a content strategist develops a new piece of content and hands it off to the optimization specialist for optimizing and then to the promotion specialist to build links and social shares.
Pros of CanIRank Full Service
Due to strong synergies between channels, a coordinated full-service approach is a big part of what enables us to achieve better results than other agencies who more narrowly define SEO. It's also why some clients refer to us as their "external marketing team". Or as another client put it: "Phenomenal, white-glove, so-much-more-than-SEO service. Like having your own remote team that takes care of everything." And another: "PR with a technical and SEO mindset".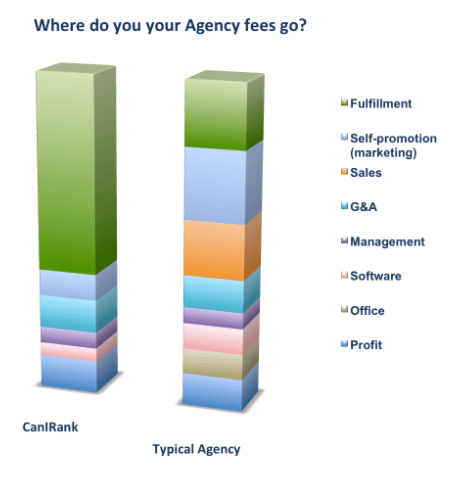 We run a tight ship to ensure that the majority of your fees are going towards what matters most: hiring the best quality people. First, we're a 100% distributed team, so we have no office costs and can take advantage of pulling the very best people from areas of the US and Canada with a lower cost of living. We also do very little self-promotion, have no sales staff, and built our own software. Bottom line is that if an agency offers you a lower hourly rate than us, I can pretty much guarantee they're not offering the same quality of people, as apart from labor there's not much else we can cut from our costs!
"With SEO, you want to have the very best minds by your side to help guide you. You need the right advisor. One that has the tools, resources, and talent to get the job done. For me, that has always been CanIRank."
Bob Ellis
Owner
Bavarian Clockworks
Some additional advantages of the hybrid software + distributed consultant team approach of CanIRank is that all of our work is coordinated in the software so you can see exactly what we're working on and what impact it has on your website. There's no lock-in and no minimum spend, so you can cancel at any time if you're not happy.
However, the biggest advantage of CanIRank Full Service is undoubtedly the ROI we're able to achieve for clients. I've never seen another agency who has achieved what I call the "Quadruple Million":
Adding over 1 million organic visitors/month
Adding over $1 million / year in sales with SEO
Taking a brand new website from 0 to 1 million organic visitors
Taking a brand new eCommerce website from 0 to $1 million in sales with SEO
If you look over our SEO case studies, you'll find examples where we've generated over $100 in revenue for every $1 spent with us. I've never seen another SEO agency at any price point who can match those results.
The secret to consistently achieving such high ROIs lies in the combination of software and team. Our software allows us to develop a custom action plan and immediately get to work on the highest impact improvements while other agencies are still researching/ analyzing, or (worse) executing on a standard checklist-based approach that isn't customized to the needs of your website. On the team side, we test and evaluate over 100 marketers for every new hire. So we're already starting with the best of the best, then we put them through a rigorous 6-week training program so they can learn the unique processes we've developed over the years to maximize results. We've found hiring for raw talent and training to be much more effective than hiring experienced consultants from other agencies since most people we've hired from other agencies were accustomed to less efficient processes.
Cons 

of CanIRank Full Service
Perhaps the biggest disadvantage of CanIRank Full Service is that as a distributed company we don't have an office where you can come meet the team, enjoy some free coffee, and take on the IT guy on the foosball table. We do jump on a lot of video calls with clients, but that's not quite the same thing as building a relationship face-to-face.
The other cons of CanIRank's approach are universal to any SEO agencies utilizing a "white hat", organic approach to growing SEO traffic. While a black hat consultant can shower your site with spam links at the click of a button, white hat SEOs need to understand your business and the types of information your customers are looking for before pitching and promoting your content to bloggers, journalists, and other linkerati. Organic promotion is arguably harder to execute well, is less predictable, and it requires collaboration between the SEO team and the brand owner. In the end, however, the content and relationships created with a white hat approach yield benefits in areas beyond SEO, and you won't have to live in perpetual fear of Google's next algorithm update.