Hiring an SEO agency can be daunting. The SEO industry seems particularly plagued with low-quality service providers (including some that are borderline scams), and it's hard to evaluate their skills and expertise if you're not an SEO expert yourself.
In this post, we'll help you avoid getting scammed and improve the likelihood that you'll choose the best SEO firm for your business by detailing 11 questions that reveal which agencies really know their stuff.
For each item, we've included the reason why it's important to ask an SEO consultant that question, as well as the response for CanIRank Full Service, our SEO consulting division.
Coming prepared with a good list of questions to ask an SEO company can reveal gaps in knowledge, outdated processes, and unfriendly policies that might come back to bite you later.
Online reviews of SEO agencies are often fake or pay-for-play, sales people gloss over details and apply positive spin, and even SEO case studies or client references provide only a curated view that SEO agencies want you to see. However, a well-done interview of an SEO firm or consultant can reveal much about the agency's approach to SEO and the complete picture of what you're actually buying.
1. What services do you provide?
Why does it matter?
SEO is a little like a car: there are dozens of interdependent components — engine, transmission, suspension, interior, wheels, etc. — and if you remove any one of those components, the whole thing is pretty much worthless. You would never hire someone to build you a car and then say, "we're on a tight budget, so let's just hold off on the transmission and the wheels for now." Yet I speak with businesses almost every day who want to reduce the cost of SEO by leaving out essential components, while still expecting the results to be "almost as good".
SEO is not: 80% of what's necessary = 80% of results
SEO is: 80% of what's necessary = 2% of results
SEO is a winner-take-all game where nearly all of the value accrues to the businesses who manage to rank at the top of page 1. If you only do enough to make it to page 4 or 5, you'll be putting in half the work but receiving <1% of the value you'd receive if you do it properly and invest enough to hit page 1.
Many SEO agencies limit their service offerings to things that are cheap and easy to execute (like keyword research, audits, meta tags, technical configuration) while ignoring critical aspects of SEO that require higher levels of creativity and expertise (such as blogger and journalist pitching, high value content, or content strategy). While this approach makes the agency's business much easier to operate, it's much less likely to generate a positive ROI than an agency who can execute on the improvements your site needs most.
A good SEO agency can cover any skill area that you don't already cover in-house. At a minimum, this should include an optimization specialist, copywriter, technical SEO, PR/ link builder, designer, content strategist, and social media specialist.
CanIRank's Response:
CanIRank Full Service assigns a team of specialists to your account according to your website's needs. For example, a typical client may have an Optimization Specialist who can improve page content and launch new landing pages, a Technical SEO specialist to make sure the site is fully crawlable, a Content Strategist to coordinate blog production and brand positioning, a Promotion Specialist to pitch bloggers and journalists, and a Community Relations specialist to share content and answer questions on forums, communities, and aggregators.
While some companies may consider these areas outside the scope of traditional SEO marketing, we're focused on doing what it takes to grow your business, and often that requires helping with tasks such as improving conversion rates, producing product videos, or putting together an email campaign. Call it "growth marketing", "organic marketing", or "inbound marketing" if you prefer, but this wholistic content-centric approach yields big dividends both in search engine rankings and other areas including higher conversion rates, brand authority, and recurring customers.

2. Who will actually be doing the work?

Why does it matter?
Some SEO agencies give you a local account manager, but outsource most of the work to low-wage countries or random freelancers on Fiverr or UpWork.
Often, agencies pitch with their A-Team: perhaps an "internet-famous" Founder, plus 2 or 3 of their sharpest middle managers. But once you sign on as a client, those friendly, creative, smart marketers you liked so much during the pitch phase move on the next prospect and never touch your account again. Instead, all of the work is done by inexperienced junior consultants right out of college.
CanIRank's Response:
No offshoring ever. You'll meet and have direct contact with the CanIRank team members actually doing the work, who are all experienced and highly-trained US, Canadian, UK, and Australian marketers. There's no substitute for direct market understanding!
Many CanIRank Full Service consultants were managers or Senior Consultants at other agencies before joining CanIRank Full Service. They've managed SEO and digital marketing campaigns for clients like Dell, Urban Outfitters, Vitamin Shoppe, The North Face, Capital One, Adidas, and Ford, as well as dozens of fast growth startups.
Each CanIRank Full Service consultant goes through a rigorous application process requiring sample work projects, live site analysis, and tests of their expertise and creative thinking in interviews with management and experienced consultants. Less than 1% of applicants who apply are invited to join CanIRank Full Service! The lucky few who are selected then go through a 6-week onboarding training to further sharpen their marketing skills before they're allowed to work on client sites.  
We believe the quality of our team members is one of our greatest assets, and we're proud to introduce you to the people who will be working directly on your account.

3. Do you just make recommendations or actually implement them?

Why does it matter?
Paying for "advice only" may seem like a good way to save money, but the reality is that execution matters. "DIY" quality work is rarely good enough to compete against highly trained and practiced experts. Besides, sometimes it takes just as much time for an expert to tell a novice how to do something as it does for them to complete it themselves.
CanIRank's Response:
We can work with both models, but in general we've found clients achieve better results if we implement recommendations ourselves. To facilitate this, we have talented copywriters, front-end developers, and designers on our team. Regardless, before making changes we always explain what we'd like to do and why, so that you have a chance to review and contribute your own ideas or suggestions. We know SEO, but nobody knows your business like you do!

4. What kind of reporting will I get?

Why does it matter?
If your SEO company doesn't keep you informed about the work they're doing and the impact it's having on your website's fundamentals, it can be hard to determine whether or not you're getting an ROI on your investment. Tracking search engine rankings isn't enough: sometimes organic search traffic increases despite poor SEO; other times brilliant SEO fails to yield immediate results.
CanIRank's Response:
Our reporting is focused on helping you understand exactly what work we've completed, and how it has improved your website. Higher rankings, more links, and increased traffic are the result of systematically improving a website's weaknesses, so whilst we do report on these areas, our primary focus is on helping you understand how your website's fundamentals are improving as a result of our efforts.
To do this we offer an unprecedented level of transparency:
Weekly

Campaign Progress Reports

show you changes in keyword rankings or any of your site's Ranking Factor fundamentals

Biweekly Task Reporting

details exactly what was done and how it will help your site

We invite you to a

shared Trello board

(our internal project management system) so you can follow along with everything we do

We use Toggl for

time tracking

so you can check at any time exactly how much time was spent on any task
5. What will the first month look like?
Why does it matter?
Many agencies spend the first month (or three) on audits, research, and planning. While these tasks are important, research by itself won't grow your traffic. For agencies, research and planning is a low risk way to bill a lot of hours without the pressure of needing to deliver results.
For clients, you're stuck spending thousands of dollars on a marketing agency with only some Excel sheets and a Powerpoint presentation to show for it. Can the agency even execute on those beautifully presented plans? You'll have to spend more to find out.
CanIRank's Response:
To get results in the most efficient manner possible, we've developed a process inspired by agile development methodologies called Lean SEO: first, CanIRank's software automates the data collection and analysis to help us identify the first layer of High Priority Opportunities. These are presented to you in a Kickoff Call at the end of week 1 so that we can incorporate your feedback and suggestions. Weeks 2-3 our team executes on those tasks, in the process learning more about your website, industry, and competitors. This enables us to dig deeper in the analysis to uncover the next layer of Opportunities. When a particular approach works well, we "mine the vein of gold" by doubling-down on that tactic. When initial experiments fall short of expectations, we revise accordingly. By Week 4 many of our clients are already seeing their first rankings increases, and we've learned enough about what works in your market to put together a comprehensive Campaign Plan.

6. Can you help with anything else besides SEO?

Why does it matter?
Modern SEO requires competence in nearly every aspect of online marketing. You won't improve rankings unless you're producing great content. Your great content can't compete unless you're actively promoting it to earn links via PR and blogger outreach. Your outreach will be more effective if you have an active social following. No one will follow you on social media unless your site is well designed. The cycle of dependency goes on and on… Bottom line: your SEO is only as strong as the weakest link in your online marketing chain.   
CanIRank's Response:
Our team has specialists in every area of online marketing: PR, social media, conversion, copywriting, design, blogging, outreach, communities, influencers, analytics, and of course optimization and technical SEO. You won't earn a positive ROI pouring traffic into a leaky bucket, so we'll tackle usability and conversion challenges early on. Despite Google's claims to the contrary, even the world's best content won't rank without links, so PR and outreach are an integral part of everything we do. There's no point optimizing content if Google can't crawl it, so we'll also help put your technical house in order.
Many clients treat us like a completely outsourced organic growth marketing department, an approach that lets them benefit from a full team of experienced marketing specialists for about half the cost of a single entry-level marketing employee.
Other clients tap into our specialized expertise to complement their existing SEO, content marketing, or growth teams. For these clients, we often see the biggest return investing in improving the capabilities of their in-house team members by guiding overall strategy, developing processes, and conducting trainings.
Lastly, clients pull us in to help resolve particularly tricky challenges or questions. With millions of data points on hundreds of thousands of websites, CanIRank is in a unique position to provide hard data on challenging questions where other agencies only provide a hunch.

7. What is your cost structure?
Why does it matter?
It should not come as a surprise to learn that agencies are businesses intended to make money. Every dollar an agency spends on itself — self-promotion, conferences, fancy office, company events, sales staff, management, etc. — needs to be recouped in the fees they charge to you. Unfortunately, the only portion of those fees that actually add value for you is the money they spend on "Fulfillment": personnel time spent improving your website and delivering the services you hired them to do in the first place.
Many of the best-known SEO agencies got that way because they spend a lot of money on self-promotion. They attend conferences, advertise extensively, and publish tons of content. As a result, only a small portion of every dollar you pay in fees goes towards providing the services that will ultimately improve your site and grow your business rather than theirs.
CanIRank's Response: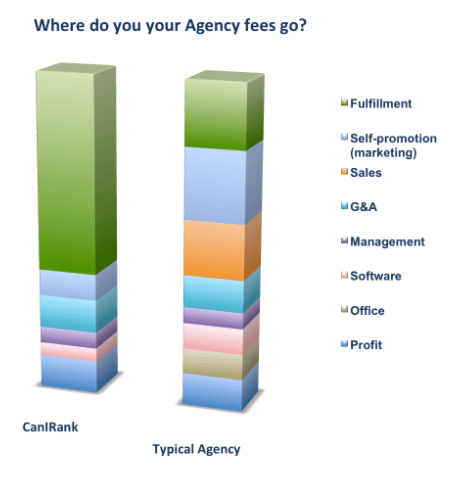 As a 100% distributed team with our own software platform, we have a much more client-friendly cost structure than typical SEO agencies.
Our software does most of the selling for us, so we have no sales team and spend very little on self-promotion. We have no office (which also keeps G&A down), and use our own SEO tool suite rather than spend thousands on software subscriptions. As a result, more of every dollar you spend with us goes towards what really matters: hiring the highest quality people to work on your website. The depth of experience and talent on our consultant team compares favorably with any SEO company in the world, but our rates are less than half the cost.
8. Who can I communicate with?

Why does it matter?
No one knows your business like you do, so it's important for you to be able to provide feedback and input directly to the people actually doing the work. Many agencies insert an Account Manager or "Strategist" in between you and the people actually doing the work (often because they are outsourcing or offshoring the actual implementation). While having a single point of contact is beneficial, you don't want to have to play a game of telephone tag every time you pass on feedback and suggestions. Account Managers are smooth talkers. They have an incredible talent for convincing you to wait just one more month (or spend more money) to finally see results, but they're not the best way to improve the results of your SEO campaign.
Another popular agency trick is to use highly experienced "marquis consultants" for the sales and pitch phase, then delegate everything to junior team members once you've actually signed on.
CanIRank's Response:
CanIRank uses a hybrid approach that combines direct access to a dedicated client team with the convenience of an account manager. First, each client is assigned a Lead Consultant who becomes your first point of contact for any questions and ongoing reporting on the results of your campaign, much like an Account Manager. However, Lead Consultants aren't just pretty talkers. They're highly experienced SEOs directly involved in setting the overall strategy for your campaign, coordinating the work of the other specialists on your account, and helping out with implementation.
In addition, we introduce you to all of the Consultants working on your account and encourage you to provide feedback directly via a shared Trello board, email, or phone. We're proud of the quality of our consultant team and certainly don't want to hide them from you!
Last but certainly not least, we put you in touch with senior managers. Management helps out with every single account from smallest to largest, providing strategic direction, input, coaching, and ideas. You're also given a link to book a call directly with our CEO any time issues or questions arise.

9. Will you explain what you're doing and why it matters?
Why does it matter?
There are no magic bullets, and anyone who claims their techniques are proprietary trade secrets is probably doing something you don't want, like automated link spam or Private Blog Networks.
Just like a good Doctor, a good SEO should be able to explain exactly how their recommended changes will address your site's deficiencies. Don't accept excuses like "SEO is really more art than science" or "Google's algorithm is a black box". An SEO without a technical understanding of how search engine algorithms work is like a Doctor with no knowledge of Biology.
CanIRank's Response: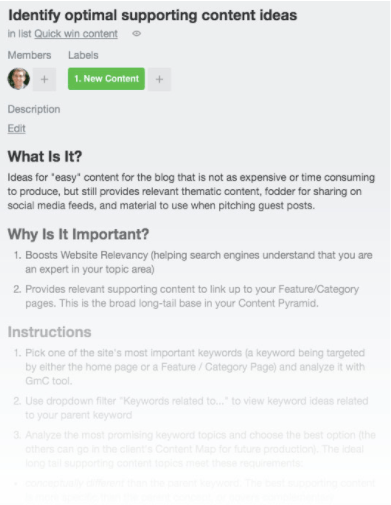 CanIRank's software was built to better understand which factors drive search engine rankings for a given type of website and keyword. It works so well that you can give us 40 randomized Google results and the software can re-rank them with a 60% accuracy.
Since our team works directly in your CanIRank account, both sides can see exactly where your site falls short relative to top-ranking competitors. For each task we work on, we explain what it is, how it will help improve your website, and what process we will follow. Then we track the impact of completing that task so that you can see how your website's fundamentals are improving.
10. How will you build links to my site?


Why does it matter?
Link building is arguably the most challenging aspect of SEO, and it's certainly the area with the biggest risk of incurring damaging search engine penalties. Unless you're already a big brand, an SEO campaign without a link building campaign is doomed to achieve poor results. On the other hand, an SEO campaign with an overly aggressive / spammy link building campaign may generate fantastic results in the short term, but months later lead to your site being completely deindexed from Google, losing almost all of your organic traffic and costing thousands of dollars to repair.
In short, link building is no place for amateurs!
CanIRank's Response:
CanIRank follows a "white hat" content-centric approach to link building that we have refined for over a decade. We help you develop more linkable content assets, build relationships with bloggers, journalist, and influencers, and work to get your content into the hands of potential link sources. The recipe is simple, but executing at a high-enough level to achieve results in a crowded content space requires years of practice and training.
Our software is a key component of our link building campaigns as we've crawled hundreds of thousands of websites to identify which target sites offer the best opportunities for earning links for any given industry. The tool scores each target page on authority, relevancy, whether or not they include dofollow links, and the difficulty of earning a link on that page. As a result, our outreach campaigns include a nice mix of low-hanging fruit with a high success rate (tier 2 blogs, industry directories, aggregators, communities, Q&A sites, etc.) and high impact opportunities that are worth the additional effort.
We also have extremely effective PR Specialists who work regularly with journalists at tier 1 outlets like Forbes, USA Today, Inc, Entrepreneur, MSN, WSJ, etc. to provide expert quotes and original research to support their stories (earning our clients a link in the process).

11. What does your optimization process look like?
Why does it matter?
Almost everyone thinks they know on-page optimization, but there are a lot of subtleties in how you do it that make a big difference in the results achieved. The most common mistake is underestimating the impact of topic models. Old school SEOs learned to just stuff the target keyword into your page wherever possible. This obviously creates a poor user experience, but it's also no longer the most effective way to communicate keyword relevancy to search engines.
Modern search engines use topic modeling to try to understand what a page is about. They're looking at the overall content of a page more than any one keyword. In fact, you'll often find sites ranking on page 1 of Google that don't include the keyword at all. Unless an agency understands how to optimize for topic models, it's unlikely they're doing a good job with on-page SEO.
CanIRank's Response:
Our Optimization process relies on our software's ability to identify the complementary Related Terms for any keyword that help search engines understand what a page is about. We can see which terms are most frequently used by high-ranking pages, and how they're incorporated into the page content. Bonus: optimizing for topical relevance rather than just keyword relevance is also a great way to improve your rankings for long-tail keywords.
Another key differentiator with CanIRank's optimization process is that our Optimization Specialists are also trained in copywriting and Conversion Rate Optimization. SEO objectives must be balanced against other goals like usability and conversion. There's no point earning a #1 ranking by adding a ton of keyword-stuffed text to a page if visitors are so turned off by the content that they immediately bounce.
CanIRank's "Trifecta Optimizations" evaluate a page from the perspective of on-page SEO, user experience, and conversion rate, then make recommendations for improvements to the page that will optimally balance all three objectives.

"With SEO, you want to have the very best minds by your side to help guide you. You need the right advisor. One that has the tools, resources, and talent to get the job done. For me, that has always been CanIRank."
Bob Ellis
Owner
Bavarian Clockworks
If you're serious about finding the best SEO agency for your business, don't let a slick sales person control the conversation and only tell you what they want you to hear. Develop a thorough list of questions to ask SEO agencies before you make any hiring decisions. Any reputable agency should be able to provide answers to this set of questions. Use them to ensure the conversation stays on point, and you'll have a standard of comparison across SEO companies. Evaluate responses in light of your business needs and goals, and you'll have a solid foundation for a successful agency collaboration!